Pink Corvette speeds charity to orphaned African children
"Defend the poor and the fatherless; do justice to the afflicted and needy." (Psalm 82:3)
How believers fulfill the charge of Psalm 82 to defend the poor and the fatherless is usually a matter of conscience. For Tracie Jones, an exuberant woman from Mannheim, Pennsylvania, it is a matter of creativity.
Two years ago, Tracie observed a substantial need while volunteering at an orphanage in Africa.
"My husband and I traveled to Nairobi, Kenya to serve along with our daughter, Kaitlyn, who was there on a nine month mission. It was a precious mission, because while my heart was breaking to see these youngsters in need, there was a joy because the children were so joyful. They had virtually nothing, but they could still smile. The night we arrived, their meal consisted of a flower paste. We went to the market and bought them food. I kept thinking, 'What can we do to help the orphans,' and I realized my car could play that role."
Enter a pink Corvette.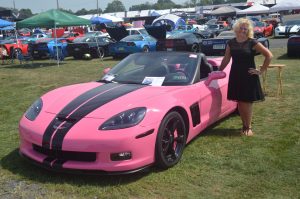 Tracie has owned a number of Vettes over the years, but her latest drive – a gleaming 2013 C6 Corvette – is different. As her license plate denotes, the car is Tracie's "Pink Dream".
"Yes, the car is pink with a splash of black striping, so that makes it unique. It is not about breast cancer, though I do give honor to those who have struggled with that disease. Basically, the car was my pink dream, since the time I was a little girl. I always wanted a pink Corvette. But more importantly, I use it as a fund-raiser for orphans in Africa. That's truly my passion. In fact, I just did two events recently. I'm excited about that. One was at Bethel United Methodist Church in Marysville, Pennsylvania.
"Church members had seen me in a parade with my pink Corvette decorated as Minnie Mouse. I did a fund-raiser with them and they in turn wrote a check for the orphanage. Many of my opportunities to share come from events like that, and word of mouth. I had hoped to set up my display at Corvettes at Carlisle, but it was a little too windy for that.
"When I come to events like Carlisle, I have a banner with pictures of the children. I have brochures, and just share the story. Right now, I'm using my car just as a showpiece. I take it to grand openings or special events; any place where it can draw attention. I'll put up my banner or hand out the brochures and people may make a donation. People are pretty generous and want to give in some way. I haven't been doing it all that long, but I'm thankful for those who have given. Every little bit helps."
Not surprisingly, Tracie's Evangelical faith underpins her desire to help the poor. The passage from Psalms 82 is featured prominently on her brochure.
"I belong to a little church in Mannheim called Lakeview Bible Church. The orphanage in Nairobi is called Zion Institute International. I'm not sure of the exact address, but it's in a very, very bad part of Nairobi. The orphanage would like to build a facility on a safe piece of land, so my goal is to help raise the money to see that happen.
"We're here to serve people – not to be served. That's just how I feel. We have an abundance, and going to another country, seeing the needs, makes you want to give. Even in their state, they are such joyful people. They haven't had solid food in days, but they are smiling. And their generosity is astounding.
"They will invite you home for dinner, even though they have almost no food. They'd give us what they had, then turn around and want to give us handmade clothing that they would normally sell at the market. 'No price – a gift,' they would say. We as Americans could take a lesson from those who have so much less. We're such a throw-away society."
Tracie said she is encouraged in the knowledge that the money she raises goes right to those in need.
"We stay in contact with them via email, so I know the funds I raise here are going straight to help the children. There is no middle man. I deposit the checks directly into the orphanage bank account.
"I wanted to go back with my daughter, because I know the children. We were planning a trip but got an alert that it was not safe to travel. There is a lot of danger over there. Actually, I had my own hair-raising experience when I was there.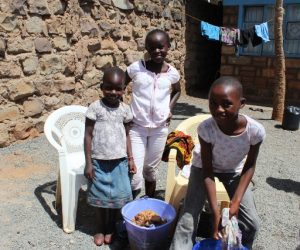 "They had warned us not to wear jewelry or anything which might draw undue attention. We were, after all, traveling in a very rough part of Africa. One day, as we were preparing to go to church, I decided to wear a necklace.
"We were told when we sit on a bus, we should have our windows up. I didn't quite understand why, but I sat down on a bus and the window was open. Before I knew what was happening, a man reached in and yanked my necklace off. It was a Tiffany with a cross, and honestly, it should have never come off without taking my neck with it. But it slid off like butter. A gentleman on the bus stood up and said, 'Welcome to Africa. Do you want me to go get him?'. I said, 'No. If he needs the money to feed his family, he can have it.' I just prayed for him.
"These are desperate measures, because the people are so desperate. You can see it in their eyes – the desperation. I wanted to go get food for one group of begging children, but was warned I might get kidnaped. This is the landscape where these children are living. It really just broke my heart.
"There is a high rate of abduction there and child exploitation. It's humbling to try to teach the people how to make a way of living; to feed their families and keep themselves out of bondage."
Tracie said her prayer is that the money she is presently raising with her eye-catching pink Corvette will affect lives in Nairobi for generations to come.
"These children need a safe place to grow and flourish, so I'm hoping that dream becomes a reality. Lord willing, that will happen. In the meantime, I'll just keep showing my car. It's beautiful. It's pink. But it's so much more than that."
* * * * *
Editor's note: This is the twelfth part of an ongoing series which will look at the places and people that make up the rich history and diverse nature of spirituality, belief, and observance in Baltimore and beyond. Read the series here.

Anthony C. Hayes is an actor, author, raconteur, rapscallion and bon vivant. A one-time newsboy for the Evening Sun and professional presence at the Washington Herald, Tony's poetry, photography, humor, and prose have also been featured in Smile, Hon, You're in Baltimore!, Destination Maryland, Magic Octopus Magazine, Los Angeles Post-Examiner, Voice of Baltimore, SmartCEO, Alvarez Fiction, and Tales of Blood and Roses. If you notice that his work has been purloined, please let him know. As the Good Book says, "Thou shalt not steal."