Patrouille de France honors oldest ally at WWI Centennial
KANSAS CITY: It has been three decades since the Patrouille de France last toured North America. The precision aerobatic demonstration team of the French Air Force stays busy on the continent, thrilling European audiences with colorful displays of exquisite flying.  But today, the Patrouille de France was in Kansas City, Missouri; primarily to help commemorate the 100-year anniversary of the United States' entry into World War I, but also to reaffirm the history of fraternity that links the United States and France.
We were on hand to speak with some of the pilots when the team arrived at the Charles B. Wheeler Downtown Airport in Kansas City, Missouri.  To a man, the group was excited to begin preparations for their historic participation in the United States World War I Centennial Commemoration.
Geoff Jolley, an aide to Congressman Emanuel Cleaver (D.,Mo), officially welcomed the Patrouille de France to Kansas City.
"If you've ever seen the Blue Angels or the Thunderbirds — America's acrobatic teams — those pilots will tell you that the Patrouille de France are the creme de la creme.  We are certainly humbled and honored to have them back in the United States," said Jolley.
Captaine Cine H. Aubert, a veteran pilot with the Patrouille de France, told the Baltimore Post-Examiner that he and his fellow fliers feel a special connection to the Americans who fought in World War I.
"We are very proud as fighter pilots to be here to commemorate World War I.  The LaFayette Escadrille was a French Air Force squadron filled with American volunteers who wanted to join our fight as early as 1916. When I first joined the French Air Force, I was pleased to also train with American pilots, so this is a special relationship we have held through the years."
Aubert said he was relieved to be on the ground after a difficult flight from Maxwell Air Force Base in Montgomery, Alabama.  Winds in the Kansas City area were gusting to near 40 MPH when the fighter pilots and their support group arrived.
"We had to avoid TBs (thunderstorms) that were turning around the field. Fortunately, we didn't have any hail on the jets, so we're good to go."
The jet airplanes used by the Patrouille de France are Alpha Jets; a light advanced trainer and attack aircraft co-manufactured by Dassault Aviation of France and Dornier Flugzeugwerke of Germany. Alpha Jets are designed to carry two crew members. They have a service ceiling of 48,000 feet and can reach a sea level speed of 621 MPH.
Capitaine William Leroy explained what the group would be doing in its tribute to America's involvement in World War I .
"We will perform a simple fly over in the skies above the World War I museum. This is to honor the servicemen.  There has been a special relationship between France and America since World War I — especially the air forces.  It is a long time that we have been allies.  Even now, we share the burden and fight together in the same campaigns.  We work together, we train together, and we fight together. We are the oldest ally of the United States, and we have never fought each other. It is a special relationship."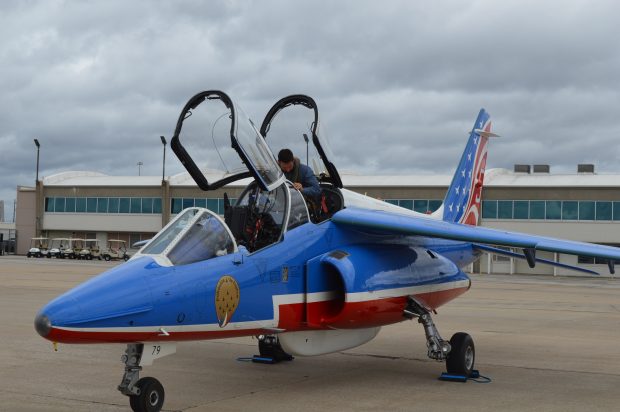 *   *   *   *   *
For more information about America's Centennial Commemoration of World War I, please visit the United States WWI Commission.

Anthony C. Hayes is an actor, author, raconteur, rapscallion and bon vivant. A one-time newsboy for the Evening Sun and professional presence at the Washington Herald, Tony's poetry, photography, humor, and prose have also been featured in Smile, Hon, You're in Baltimore!, Destination Maryland, Magic Octopus Magazine, Los Angeles Post-Examiner, Voice of Baltimore, SmartCEO, Alvarez Fiction, and Tales of Blood and Roses. If you notice that his work has been purloined, please let him know. As the Good Book says, "Thou shalt not steal."