moe. Finishes a Sold-Out Run at the Drive-In with a Prehistoric Bang
Saturday, June 19th, 2021 moe. @ Showtime at the Drive-In, Frederick, MD (Photo by Chris Swanson)
Dozens of cars filled with "moe.rons", an endearingly tongue-in-cheek moniker claimed by fans of the jamband, moe., formed a line outside of the Frederick Fairgrounds on Saturday, starting around noon.
As the line grew longer, moe.rons improvised miniature tailgates outside of their vehicles up and down East Patrick Street, passing the hours until the Buffalo-based quintet's second sold-out show of a two-night run in the usually quiet Maryland town.
After almost a year of socially distant "Showtime at the Drive-In" events at the Fairgrounds, rural Frederick's position as a temporary haven for fans of jambands continues to solidify its place in history. For their part, moe. themselves first performed at the makeshift venue in November 2020.
Weather forecasts changed frequently throughout the day, and fans braced themselves for rain or even thunderstorms while weighing the odds of the dreaded rain delay—drive-in concerts at the Fairgrounds end promptly at 10:00 PM due to a local noise ordinance, whether or not the band has stopped playing.
As cars began to enter and find their respective 8×6 foot spaces when the doors opened at 5:30 p.m. a few wispy clouds streaked across a blue sky while fans perused the grounds and visited the "Vendor Village", indulging in local food and drink selections after appointing their home bases for the evening with portable furniture and tarps.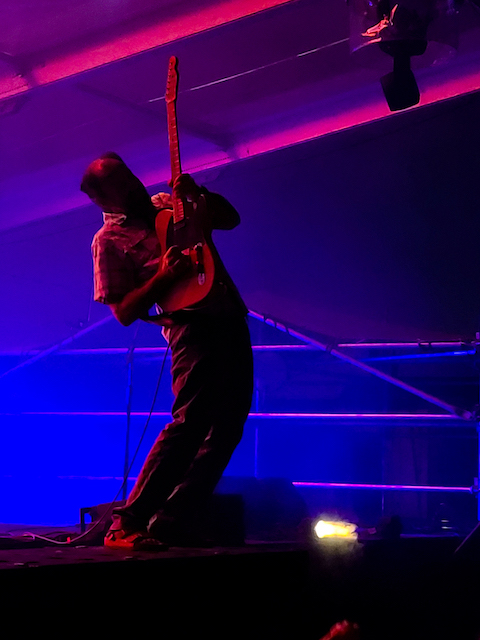 A few minutes after the official 7 p.m. start time, moe. kicked off the festivities with "The Ghost of Ralph's Mom", an energetic rocker punctuated by power chords and concise solos from guitarist/vocalist and founding member Chuck Garvey. Energy levels continued to rise with the calypso-inspired "Y.O.Y.", boosted by frenetic rhythms from drummer Vinnie Amico and percussionist/multi-instrumentalist Jim Loughlin. Founding member Rob Derhak, assuming bass and lead vocal duties, launched into the twisted funk groove, "Timmy Tucker", slapping and popping while Garvey and guitarist/vocalist Al Schnier traded licks throughout an impressive first set jam.
Loughlin's haunting vibraphone featured heavily in the spooky instrumental waltz, "Chromatic Nightmare", and Derhak's impassioned vocals anchored the Americana-tinged singalong, "Faker". Loughlin replaced his mallets with an acoustic guitar for a jammed-out version of "Bring You Down" to close a strong first set.
The sun had almost set behind the stage after a half-hour set break as moe. launched into "Nebraska" to start the second set, highlighted by Garvey's vocal scatting in sync with his own guitar solo. During "Opium", Schnier traded heavy blues riffs with Garvey's slide guitar licks, slowly building into a swampy crescendo. Instrumental "Montego" spotlighted Schnier, who stepped to the front of the stage and unleashed a monstrous solo after playing with understated restraint for much of the evening.
Following a seamless transition into a heavy, headbanging rendition of the apocalyptic "Puebla", Schnier turned heads with even more shredding. Set closer "Time Ed" featured extended improvisation with noteworthy experimental noise solos courtesy of Garvey's mastery over his effects board.
The quintet walked off the stage leaving fans wanting more, and with about six minutes left before the mandated hard stop, moe. launched into a raucous cover of Blue Öyster Cult's 1977 fan-favorite single, "Godzilla", to moe.rons' delight. The band will take a brief break before three planned performances at the Peach Music Festival in Scranton, PA. Upcoming acts in Frederick include Umphrey's McGee and Tedeschi Trucks.
Set 1
The Ghost of Ralph's Mom
O.Y.
Timmy Tucker
Chromatic Nightmare
Faker
Bring You Down
Set 2
Nebraska
Opium
Montego >
Puebla
Time Ed
Encore
Godzilla

Alex May has been attending concerts in the DMV for his entire life. He was born and raised in Maryland, attended college and graduate school in Virginia, and lives in DC with his girlfriend and dog. He believes all music sounds best live, and he never misses a Sunday show.