Lord Baltimore Hotel sparkles with nostalgic return of the Bubble Room
One of the hallmarks of the Deco-draped Hollywood films of the 1930s are the sweeping ballroom scenes portraying night life in a decidedly more elegant era. The action might be romantic (Fred Astaire gracefully wooing Ginger Rogers), comedic (Joan Blondell laying into a conniving James Cagney), or strictly urbane (William Powell trading quips while dancing with Myrna Loy). Regardless, the spectacular venues always set the stage for the memorable moments which followed.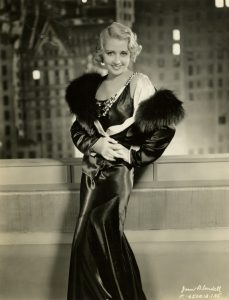 Turning back the clock to the 1930s – and its own storied past – the Lord Baltimore Hotel hosted a stylish soiree last Saturday night aptly called "Bubbles in the Ballroom." A "dressed-to-the-nines" evening of dinner and dance, Bubbles in the Ballroom attracted some 200 guests while selling out in less than a week.
The swank affair — a loving homage to the Lord Baltimore's celebrated Bubble Room of bygone days — took place in the hotel's beautiful third floor Calvert Ballroom.
"There used to be three hotels in Baltimore which did this sort of thing. We're that last one standing," noted Gene-Michael Addis – General Manager of the Lord Baltimore Hotel.
"We sold out this event in a matter of days, and that was very exciting. I can't tell you how pleased we are by the turnout. People do seem to enjoy this kind of event. There is an active swing dance group locally, but there is really no place else like this to hold such a grand affair. We'd like to do something like this on a bi-monthly basis, so of course we're already looking ahead.
"You know, a lot of people in town came here for their high school prom. Many others came here to get married. We'd like to remind them that we are still here catering events in that classic style."
The other hotels of which Addis spoke were The Emerson and The Southern Hotel.
Addis said The Southern, which was razed in 1999, was famous for its roof top Spanish Villa-styled garden with a band stand and dance floor. The Emerson (razed in 1971) is often remembered today because of its namesake, Captain Isaac Emerson (of Bromo Seltzer fame), and in the legends of numerous local politicians.
In its heyday, visitors to the Bubble Room could enjoy, "Faultless service, genial atmosphere and traditional Maryland hospitality" while listening and dancing to the likes of Dick "Hotcha" Gardner and his orchestra. For those at home, the action was broadcast twice weekly coast-to-coast via Baltimore's CBS radio affiliate, WCAO-AM.
"Hotcha" Gardner may have crossed the veil, but in his stead, Saturday night's Bubble Room guests were entertained by a 10-piece orchestra – fronted by house singer-pianist Tommy Joy. Never missing a beat, the orchestra transported party-goers to the late jazz-age with familiar standards made famous by Artie Shaw, Glenn Miller, and others.
Joy told the Baltimore Post-Examiner his band-mates (many veterans of the Zim Zemarel Orchestra and the Navy Commodores) revel in the opportunity to play the swinging sounds of the 30s and 40s in an elegant ballroom setting.
"Baltimore used to be such a Mecca for jazz music. I mean, this is where Billie Holiday was born!," exclaimed Joy. Joy also noted that there's been something of a revival of dinner-club jazz. "You can find it in New York and other places. Baltimore is just lagging behind."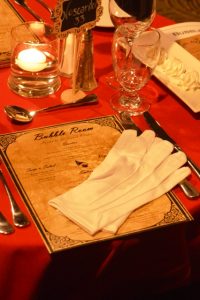 Joy said he once had a chance to open a show for Natalie Cole. "I told her how much her father's music meant to me."
"When Natalie made that album of Nat "King" Cole classics, it suddenly became cool to ask for jazz music again."
Joy also offered a generous tip-of-the-cap to Lord Baltimore General Manager Gene-Michael Addis.
"With a lot of other venues, it's only about the bottom line. Gene cares about the history of this place and the utter enjoyment of his guests."
For those having dinner, another part of the enjoyment was the à la carte menu of lavish drinks, delicacies and desserts. The Baked Alaska for Two was one of several dessert offerings popular with those in attendance, though this reporter had hoped to get a glimpse of the hauntingly delicious Molly Cake.  (Molly Cake is so named for the childlike apparition which seems to inhabit The Lord Baltimore Hotel.)
As advertised, "Bubbles in the Ballroom" mirrored the affairs adored by early 20th-century society. We spoke with two married couples savoring a unique night out.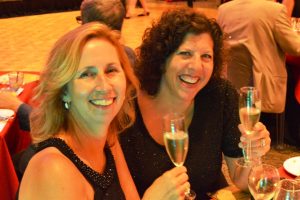 Sherry DeFrancisci and her husband Vince are Frederick transplants who now live in Baltimore. They were joined by good friends (and former Frederick neighbors), Jane & Don Lindesay.
"I heard about this event on a local TV morning show, so I called my friend Jane," said Sherry. "We're always up for a good time, and this sounded like it was right up our alley."
With a piano tinkling in the background and several couples gliding effortlessly across the parquet dance floor, we asked Sherry and Jane if they were dancers?
"Not yet!," snickered the two women in unison, "But we hope to be dancers before the night is through," chimed Jane. "We understand there may be a dance lesson."
When I noted that the dance lessons happened earlier in the evening, Jane said, "Well, maybe they'll have an encore. I certainly hope so. This looks so fun. It's something different."
"It IS something different," said Sherry. "It's something classy. It's another side of Baltimore, which shows there's more to do here than see the Aquarium. It's just a beautiful event."
Like a Deco-draped Hollywood film of the 1930s.  In Baltimore!
*   *   *   *   *
Due to the resounding success of Bubbles in the Ballroom, Gene-Michael Addis has just announced the next event: The Lord and Ladies Masquerade Ball.  Set just in time for Halloween, The Lord and Ladies Masquerade Ball will take place on Saturday, October 28th. Like the Bubble Room, the masquerade ball will be another "Big Band" dance! Information about this and other upcoming events may be found by visiting The Lord Baltimore Hotel, or by following The Lord Baltimore Hotel on Facebook. The Lord Baltimore Hotel is located at 20 West Baltimore Street, Baltimore, MD 21201
Wonder what a broadcast from the Bubble Room might have sounded like in the 1930's?  Give a listen to the song, "Say, Young Lady" by George Olsen and his Music with vocal refrain by Dick "Hotcha" Gardner.

Anthony C. Hayes is an actor, author, raconteur, rapscallion and bon vivant. A one-time newsboy for the Evening Sun and professional presence at the Washington Herald, Tony's poetry, photography, humor, and prose have also been featured in Smile, Hon, You're in Baltimore!, Destination Maryland, Magic Octopus Magazine, Los Angeles Post-Examiner, Voice of Baltimore, SmartCEO, Alvarez Fiction, and Tales of Blood and Roses. If you notice that his work has been purloined, please let him know. As the Good Book says, "Thou shalt not steal."