Keeping warm with Chilly Jilly
How do style and warmth go together in the winter? It's not always easy to look super fabulous and to stay warm.
But I've been wrapping myself up in this gorgeous wrap by Chilly Jilly and it's proven to be a hit. This Saturday I wore a cocktail address to an event and over my shoulders I threw this wrap to keep out the cold. 'Don't you look the bees knees!' commented my friends. 'It's my new best thing ever,' replied I. Now they all want one!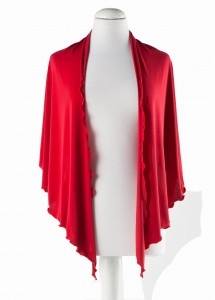 Chilly Jilly wraps come delivered as a treat in themselves in a silk bag. You can get your mitts on a Chilly Jilly Wrap, Wrapper Blanket, Jilly Jacket, Lounge Pant or set of Gloves and the best thing is you can keep them right in your purse.
I keep mine with me so I will be prepared for every air conditioning vent, airplane nap, beach sunset, theater performance, stroll in the park, cold day at the office. I love mine and suspect many of my girlfriends will be receiving them for birthday presents if they don't order their own!
I'm also in love with the Duelette, which, for someone with super long hair like me, is a wonderful find!
The Duelette bracelet can stay on your wrist and, as they say, you'll never have to sacrifice style for comfort again! This stylish accessory is also a hairband and I need this EVERYDAY when I work out, and then it looks amazing as a bracelet. It ensures that you're ready for anything – wind, heat, humidity, a trip to the gym, even an impromptu dinner date. The beads are 14k gold and silver plated for shine and durability and can be worn alone or together to create different looks for different occasions.
Bands come in black or white and the beads are gold, silver or a combination. I adore mine.
———————————————————————————
One warm summer night, my husband and I joined some friends for dinner at a wonderful restaurant. The dinner, however, was not enjoyable because my friends and I were FREEZING in the air conditioned restaurant. When my husband took out his compact reading glasses I couldn't help but wish there was a little wrap in that case that I could put over my shoulders. At that moment – Chilly Jilly was born. I began designing with the wrap and there were a few things that I knew it had to be, it had to be lightweight, wrinkle-resistant, and do the job of "keeping the chill out." I wanted it to be small enough to be kept in a woman's purse at all times so that it could come to the rescue at those unexpected times. I wanted it to be casual and dressy as well as attractive and affordable to most women.As it turned out, meeting all those criteria was more difficult than I thought. Finding a fabric to provide warmth and fit in a small case seemed impossible. However, after a couple of years of searching and trials, we now have a product that meets them all and we love it.Hopefully, women carrying sweaters on warm summer evenings to an air conditioned venue will be a thing of the past. (I've actually wore mine as a bathing suit cover-up as well.)
Recently I entered another beautiful, freezing restaurant and not only pulled out my Chilly Jilly but saw one across the room. I think we were the only two comfortable women in the room!!
Jill Boehler, Designer and Founder of Chilly Jilly
The Chilly Jilly Criteria
It had to fold small enough to fit into a woman's purse

It had to be wrinkle-resistant

It had to be soft and comfortable

It had to provide the right amount of warmth

It had to be machine washable
'

Claire Bolden McGill is a British expat who lived in Maryland for three years and moved back to the UK in August 2015. Claire wrote about her life as a British expat on the East Coast and now works in travel and hospitality PR in the UK. She still finds time to blog about her repatriation and the reverse culture shock that ensued – and she still hasn't finished that novel, but she's working on it. You can contact Claire via twitter on @clairebmcgill or via her blog From America to England.