Give It Up For Live Music: Charm City Bluegrass Festival Returns to Baltimore for the Fall Throwdown II
Dave Wilson (guitar), John Teer (mandolin), and Greg Reading (bass) of Chatham County Line gather around the microphone for an uplifting jam. (Photo by Gary Jared)
Baltimore's bluegrass and craft beer fans could not have asked for a more beautiful day to enjoy the first day of the Charm City Bluegrass Festival's Fall Throwdown II.
Hosted by Key Brewing Co. in Dundalk, the Charm City Bluegrass Fall Throwdown invited a variety of musical acts, including local and nationally renowned artists, as well as many vendors, including Basic Bowl Bros, GoGo's, Be Kind Signs, and more for a warm sunny afternoon of bluegrass, craft beer, and delicious food.
Key Brewing Co. also released an exclusive beer just for the Charm City Festival Fall Throwdown named Earthy Mama, a rye porter infused with notes of chocolate and a hint of hemp. With the perfect weather, friendly atmosphere, and inviting sound of string music, there was not a better spot in Baltimore to enjoy a cold beer this weekend.
The festival began with a Charm City Battle of the Bands alumni, Bilgewater Bluegrass. Their high-energy opening set included original songs like "Sheets of Rain" and covers like "White Freightliner Blues" and a hauntingly beautiful rendition of Fleetwood Mac's "Rhiannon," sung by the band's fiddle player, Victoria Grier.
The second act, The Jakob's Ferry Stragglers, continued the lively energy of the day with their vibrant and, at times, electric set. Jody Mosser's dobro sang with distortion and delay during his solos, adding a psychedelic vibe to their extended jams. Libby Eddy, the band's fiddle player and vocalist, added joyful tones to the band's sound with her dynamic soloing and powerful voice, especially during their cover of Fleetwood Mac's, "Go Your Own Way" and the Grateful Dead's "Brown Eyed Women."
The afternoon continued with the Raleigh-based group, Chatham County Line. The band's frontman, Dave Wilson, led a set of warm and soulful music that was highlighted by the triumphant mandolin solos and soaring backup vocals of John Teer, as well as Greg Reading's sweet yet solemn pedal steel guitar.
The Old Part of Town continued the festival with a set of extended improvised electric bluegrass jams backed by drummer Steve Raskin.
The crowd favorite of the day was the seven-time International Bluegrass Music Association's Fiddle Player of the Year and the 12-time Instrumental Group of the Year: Michael Cleveland and Flamekeeper. Cleveland opened the set exclaiming, "Give it up for live music!"—acknowledging how glad he and the band were to be back on the road, performing live for an audience after being sidelined for over 18 months due to COVID restrictions, and the crowd's ecstatic cheers and applause showed they were equally glad to be there.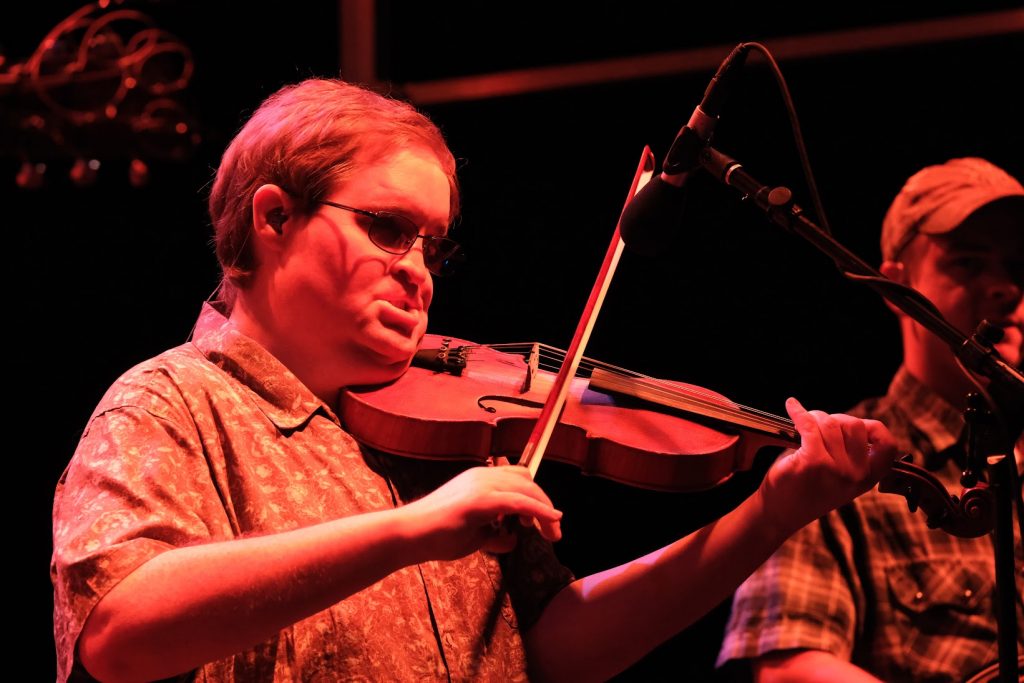 Their set, filled with dueling fiddle, mandolin, and banjo solos, was an absolute scorcher from start to finish; once the band put their foot on the gas pedal, they did not pick it up off the floorboard of the stage.
The first night of the festival wrapped up with a performance by three-time Charm City Bluegrass Festival veterans Colebrook Road on the Wood Stage and Huntington, WV natives Ona closing down the Metal Stage. Colebrook Road, whose last album peaked at #2 on the Billboard Bluegrass Charts, performed a set of traditional upbeat bluegrass with tight harmonies. In contrast to most of the bands of the day, Ona's fully electric set seemed to draw inspiration from 1970s classic rock sounds rather than bluegrass, but the crowd continued to groove to their reverb and tremolo saturated sound to close out the first night of the Charm City Bluegrass Festival Fall Throwdown II.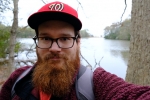 Gary Jared is a DC-based photographer and lifelong fan of live music who loves seeing his favorite bands in as many music venues in the DMV area as possible. His favorite venues are the 9:30 Club and the 8×10. Gary earned two Bachelor's degrees in History and Professional Writing and a Masters in Public Administration from the University of North Carolina Wilmington.