Fracking's horror stories
All movements need stories. Exposures of violence against black people, from lynching to lack of service at lunch counters, propelled the Civil Rights Movement. The struggle for unions was galvanized by confrontations on the shop floor and the picket lines.
As a participant in the fight against hydraulic fracturing in Maryland and a writer, too, I'm always looking for stories that can convince citizens and legislators alike that permitting fracking in Western Maryland would be bad for our environment, for jobs and for our economy.
My thirst for narratives was quenched on Feb. 22 in Annapolis during a House of Delegates hearing on HB 1325, a bill call for a fracking ban in our state. The storyteller was Craig Stevens, a guy with a shaved head, sporting his father's Civil Air Patrol flight jacket. Stevens held up a well-traveled plastic bottle of brown water and told delegates the contents were the product of contamination of the well of Scott Ely's family farm in Dimock, Pa. in Susquehanna County, Pennsylvania, along with his own water being contaminated in in Silver Lake Township, Pennsylvania, up north near the state's border with New York.
Stevens, a self-described "Constitutional conservative," owns a farm that goes back six generations. His well and the wells of scores of other Susquehanna residents were poisoned by natural gas companies that penetrated the Marcellus shale beneath their properties with the horizontal drilling technique known as hydraulic fracturing. He outlined how "landmen" for the natural gas companies had visited his 95-year-old grandmother in a nursing home and convinced her to sign an agreement, without the knowledge or permission of her family, to lease her property to drillers as only a life tenant.
The House Environment and Transportation Committee only allotted two minutes for testimony. But Stevens, in a seemingly well-practiced staccato delivery, outlined how scientists at the U.S. Environmental Protection Agency had originally minimized the risks of fracking to public and private water supplies but were persuaded to heighten their estimation of risk after Stevens and some of his neighbors outlined their water problems and the Ely's struggle to win a $4.23 million settlement against Cabot Oil & Gas in a March 2016 federal court jury award for nuisance and negligence and damage to their wells.
"When you mix politics with health and safety, people die." Stevens told the committee.
I spoke briefly with Stevens after the rally and agreed to meet him and two fellow anti-fracking activists a few days later where they would be addressing a gathering of the Anne Arundel County Watershed Steward's Academy.
Then I "Googled" Stevens and discovered I was talking to a stalwart private property warrior, a guy referred to in a story as one of a group of insurgent's on the front lines of America's fracking war, who had traveled the country and even addressed the United Nations alerting others to the threats posed to the planet by a continued addiction to fracking for fossil fuels. Stevens was one of the grassroots advocates featured in a DVD, Groundswell Rising (Protecting Our Children's Air & Water), a compelling video featuring environmental heroes like Bill McKibben, the singer Natalie Merchant and actor Mark Ruffalo.
Ray Kemble and Lee McCaslin joined Stevens in Anne Arundel County. Kemble, from Dimock, Pa., also in Susquehanna County, wore a thick back brace over a sleeveless Harley Davidson T-shirt and black leather jacket. Only a few weeks ago, the former truck driver slipped on the ice and broke his back. But, as Stevens set up a table displaying the long struggle against natural gas companies waged by residents of Susquehanna County in the lobby outside the steward's academy conference, Kemble defied the pain and discomfort of his condition, letting loose on his long battle with natural gas companies working in his county.
Kemble's saga, described in a video, From the Front Lines, has included years spent driving a truck for a local contractor delivering water to nearby fracking sites. There he says he was often engulfed in dust clouds of sand that crews combined with the water and a toxic mix of chemicals, injecting them and into mile-deep vertical wells. The high-pressure streams are injected to fracture the shale for up to two miles horizontally to release gas that wasn't available by the prior method of extraction.
"I have tumors from silica dust and silicosis of the lungs," says Kemble. The dusts could travel up to 10 miles," he says and, instead of properly disposing of toxic water from the fracking site, he says he often was assigned to spray it on existing roads.
"My home in Dimock was once worth $400,000," say Kemble. But, after drilling began, a gas rig was flaring within 500 feet of his house and three gas pipeline compressor stations were constructed nearby.
"I had my well tested in 2007 and the water quality was fine with no hydrocarbons," says Kemble, who traveled to Paris in 2015 for the United Nations Climate Change Conference. But one year after the first well test, he says, a new test came back with 27 different chemicals and elements listed, including uranium, strontium and sulfites. "You'll burn your hand if you put it in my well water," adds Kemble. "My well driller says I'm screwed." Kemble has a "water buffalo," a storage tank, outside his house to store clean water he must pick up himself. His homeowner's insurance has been cancelled. The bank considers his home, now nearly worthless, an industrial site.
I asked Kemble about the claims of some unions and legislators that fracking will create jobs. "The natural gas companies bring workers in to drill the wells," he says. All of the other work is contracted out. While some local residents will get jobs, he says, as soon as one becomes a "whistleblower" and questions safety and health practices, he will find himself unemployed. For a time rents in the area will triple as incoming crews raise the demand for living quarters. But the boom will be short-lived, he says, and many of the out-of-state workers, who sent their money home on payday from their work on the well pads will stick around the state only to collect unemployment benefits.
The state of Pennsylvania and energy companies will often play a "shell game" on jobs, says Kemble. If a 50-worker crew moves from one well pad to another, sometimes there are reports that employment has increased when, in actuality, the numbers are static.
Kemble asks if any jobs created are worth risks that have included a severe drop of water levels on the Susquehanna River and aquifers supplying wells in the region as energy companies extract millions of gallons of water for fracking.
In 2015, the EPA's Science Advisory Board held a meeting to review its $24 million study on water quality after fracking. Kemble, who saw a preliminary report minimizing the contamination of water from fracking, was invited to testify. He says, "I slammed my fist on the table and told the EPA they should come in, do their damned jobs and tell the truth." After the hearing a scientist came up and thanked him for his testimony, saying he didn't know about the problems in Susquehanna County Kemble had addressed. "I asked him if he was living under a rock," says Kemble. The scientist said, "Yes, I've been living under a rock," says Kemble.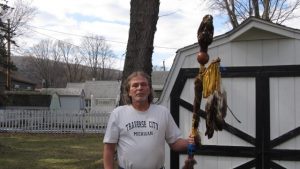 Lee McCaslin has shoulder-length hair and wears the beaded necklaces of the Ottawa tribe. McCaslin, born in Michigan and now living in Bath, N.Y., has 36 years of experience in the drilling industry. "I began working on rigs at age 17 with guys who were coming back from Vietnam and needed jobs," says McCaslin, who worked on traditional drilling before being deployed on hydraulic fracturing where he supervised day-to-day drilling operations. He has worked in Pennsylvania, North Dakota, California, Wyoming, Venezuela and Michigan and on offshore rigs in the Gulf of Mexico where he spent 30 straight days at a time on the rig with only seven days off.
"The industry cannot insure against damage caused by fracking," says McCaslin who now works as an expert witness supporting victims who have suffered from health conditions caused by their exposure while working in the the oil and gas industry.
Fracking crews work 14 day or 7 day stretches, says McCaslin, but often they bring home no more than six hours of overtime pay. In 2008, as natural gas exploration escalated with simultaneous booms in Colorado and Texas, says McCaslin, " a whole new generation was brought in to work in the gas industry." Skills had been lost as older, better-trained workers were leaving. "The death toll went up," he says. He once saw a pipeline explosion between Corpus Christi and Houston, Texas where flames could be seen 160 miles away.
While McCaslin, Kemble and Stevens are not union members, Stevens has reached out to address the dangers of fracking with labor leaders including the president of the Florida AFL-CIO who were under pressure from some of their allies to support opening the state up to the extraction method. "I'm not a union guy. I support worker safety," says Stevens. But I told them the injury rate for the oil and gas industry is eight times higher than all others combined." In 2015, the AFL-CIO issued a resolution opposing the drilling protocol.
Stevens, Kemble and McCaslin have their detractors. They are ridiculed as "fractivists" and "alarmists" by energy industry defenders. But their stories are authenticated by poisoned wells, amplified by the disruption of narrow country roads, some meandering through schools and neighborhoods, lined with noisy diesel trucks spewing exhaust. Their narratives are dramatized by the scarred lungs and poor safety record of a nomadic, largely nonunion workforce and punctuated by towns ruined by the bust that followed the boom.
I asked Kemble what message he would send to Marylanders who say banning fracking would violate the property rights of those who want to lease their land to Big Oil.
"It's no longer your property rights when a well on your property can extend horizontally for two miles. It's no longer your property rights when air pollution off the well pad includes benzene and other carcinogens and causes asthma and nosebleeds. You have infringed on my rights when you frack that pad," says Kemble.
"People in Maryland need to mobilize. You're citizens. Pull your bootstraps up," says Kemble. The experience of Pennsylvania activists at the EPA, he says should give hope to all who doubt their capacity for influence. "We the people went in and overturned the industry and the government with facts about what fracking does," says Kemble.

Len Shindel began working at Bethlehem Steel's Sparrows Point Plant in 1973, where he was a union activist and elected representative in local unions of the United Steelworkers, frequently publishing newsletters about issues confronting his co-workers. His nonfiction and poetry have been published in the "Other Voices" section of the Baltimore Evening Sun, The Pearl, The Mill Hunk Herald, Pig Iron, Labor Notes and other publications. After leaving Sparrows Point in 2002, Shindel, a father of three and grandfather of seven, began working as a communication specialist for an international union based in Washington, D.C. The International Labor Communications Association frequently rewarded his writing. He retired in 2016. Today he and his wife, Maxine, live in Garrett County where he enjoys writing, cross-country skiing, kayaking, hiking, fly-fishing and fighting for a more peaceful, sustainable and safe world for his grandchildren and their generation