Yellow is a wonderful and cheerful color that you cannot refrain from showing your happiness whenever someone gifts you with a beautiful bouquet of yellow flowers. This is among the best flowers you should opt for when you one to cheer up someone you love. This stunning color evokes emotions of light-heartedness and joy.
These flowers also symbolize intellectual energy, new beginnings, purity, and happiness. Yellow flowers are also a common selection at the place of work where they are used to show gratitude for the work well done.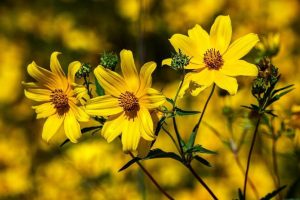 Sunflowers
Sunflowers are famous flowers across the world. As the name suggests, these flowers are thought to bring sunshine in the form of cheerfulness to people. Sunflowers enhance ambiance and liveliness and are suitable for summer weddings and can also be used in your living room.
These dark yellow flowers represent hope and optimism. Generally, it is held that if someone gives you these flowers as a gift, it shows that he/she is your secret lover or admirer.
Black Eyed Susan
These bunch of flowers resembles the sunflower, only that their petals have wide spaces as compared with that of sunflowers. These flowers are a symbol of encouragement. The beautiful flower is suitable for graduation ceremonies.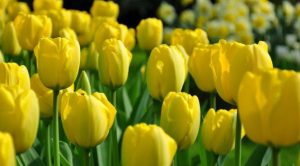 Yellow Roses
Rose is among the most common flowers you can find in the market. They are also commonly grown in home flower gardens. Though most roses represent romance and love, the yellow rose flower represents springtime, devotion, appreciation of friendship.
They are ideal for graduation ceremonies, during baby showers, to show congratulations and other happy occasions.
Yellow Tulips
These are among the most stunning flowers in the world, which sends an ambiance of beauty in every aspect present near them. Besides, it is a national flower in Turkey and Iran.
Tulip represents perfect affection and romance. These yellow flowers were initially linked with unreciprocated love, but now they symbolize sunshine, warmth, and happiness.
Calla Lilies
Contrary to the name given to this flower, you should not confuse them with lilies. They are not lilies and not even related family wise. They belong to the Araceae family which includes other flowers such as caladiums and Anthodium.
This beautiful flowers from the top of its thick stem and looks like a trumpet-shaped rolled maize leaf. A group of beautiful yellow lilies can be an excellent addition to your flower garden, and it is extremely recommended for house decorations.
This list is incomplete without this stunning flower; yellow iris flower. Its name is given in line with the Goddess of the rainbow. There are over one hundred varieties of yellow iris flowers. Yellow iris symbolizes passion and was commonly utilized by suitors of Victoria to show their depth of love.
You must have come across yellow marigold flowers several times if you are a flower fanatic. They are ideal for growing in gardens. People don't like gifting these flowers and also it is not used in most flower bouquet since it symbolizes jealousy, cruelty, and grief.
Most tribes also associated marigold flowers with death since they play a significant part during the day of the dead. However, in India, this flower is considered promising and is utilized in garlands in decorations in marriage scenes.
Graham Thomas Rose
This is among the most stunning yellow roses in the world. This marvelous fragrant bouquet consists of the double golden blooms. The flowers are normally deep golden in hue when they are young, and turn light as they age. This cute flower is very sweet-smelling like fresh tea yellow roses.
Yellow Orchids
Most people love orchids as the best beautiful blossoms. These flowers exist in varying sizes and colors such as purple, white, yellow, red and so on. Yellow orchids symbolize excellence, fertility, and legality. The bright flowers are commonly used in weddings and are also incorporated in formal flower arrangements.
These flowers include a sweet-smelling taste to any flower bouquet. They exist in two varieties namely; epiphytes and terrestrial.