Coleslaw, great side for Corned Beef Sandwiches
Try these easy recipes and add your creative touch. Start with finely-shredded raw cabbage and carrots, add other vegetables or fruits. Mix with either a traditional vinaigrette or a mayonnaise-buttermilk based dressing.
Makes a great side dish for fried fish, chicken and, of course, barbecue.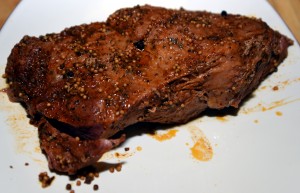 Speaking of barbecue: In spite of the chilling cold, my husband, David decided to smoke a corn beef to accompany the coleslaw recipes. Yes, in the middle of winter, cold. He wrapped a good sized corn beef in foil, to contain the juices, and smoked it at 225 degrees for 8 hours. Amazed, it not only cooked through but was fall-off-the-fork tender. We built traditional sandwiches with layers of corned beef on white bread and topped with a generous serving of coleslaw. A glass of beer completed the experience. Summer can't come fast enough.
A little history: Cabbage and humans go back a long time. So it's no surprise that cabbages arrived with the first settlers in the new world. Dutch colonists are credited with introducing a chilled cabbage salad made of cabbage and vinegar, the beginning of coleslaw.
Refrigerator or basic coleslaw with a cooked dressing.
Refrigerator Slaw, Loretta, Akron, PA, More-with-Less Cookbook, 1976
Chop in a blender, or shred and cut finely.
2 large or three medium heads cabbage
2 stalks celery
3-4 carrots
1 onion
Sprinkle generously with salt and set aside while making dressing. Before adding dressing, squeeze dry.
Dressing:
Combine in a saucepan:
2 cups sugar
1 teaspoon salt
1 cup vinegar
1/8 teaspoon pepper
1-2 teaspoons celery seed
Bring to a boil. Remove from heat. When cool, add to cabbage. Mix well. Store in tightly covered containers.
This recipe asks for similar ingredients but the dressing isn't heated.
Pepper Slaw, Ethel, Still Cooking on the Mountain, 2010
6 cups shredded cabbage
1 chopped green pepper
1 chopped celery stalk
2 cups sugar
1 cup vinegar
½ teaspoon pepper
1 ½ teaspoon salt
1 teaspoon celery salt
Mix all the ingredients together and enjoy!
In the middle of the 18th century, mayonnaise became available to the house-wife, and the basic coleslaw dressing took on a new taste. Mayonnaise, buttermilk and/or sour cream replaced the more traditional coleslaw version.
Coleslaw, Ladies Auxiliary of Los Angles, 1971, 1995
8 cups chopped cabbage
¼ cup shredded carrot
1/3 cup sugar
½ teaspoon salt
1/8 teaspoon pepper
1/3 cup milk
½ cup mayonnaise
¼ cup buttermilk
1 ½ tablespoons white vinegar
3 tablespoons lemon juice
Combine sugar, salt, pepper, milk, mayonnaise, buttermilk, vinegar, and lemon juice; beat until smooth. Add cabbage and carrots; mix well. Cover and refrigerate for at least two hours before serving.
Cabbage Base: Cabbage and carrots remain the mainstay of coleslaw but variations are endless.  Examples include adding radishes, green onions, green pepper, purple cabbage, walnuts, raisins, pineapple and/or apples.
Cabbage Hints: Cabbage is rich in fiber but excessive consumption may lead to intestinal gas. Bloating and flatulence. Wikipedia
*To absorb cabbage odor while cooking, place a small cup of vinegar on the range. Or add a wedge of lemon to the pot. Kitchen Hints, 1980.
Trivia: Babe Ruth and cabbage leaves: During games, Babe Ruth placed chilled cabbage leaves under his hat to keep cool.
When Time is of the Essence:
Buy prepared packages of cabbage, pre-chopped or shredded. Add a bottle of dressing from the salad dressing shelves or the fresh vegetable section. Still too much prep time? Head for the Deli section for takeout. I've been there and done that!

Ann Marie Bezayiff received her BA and MEd from the University of Washington in Seattle. She is an author, blogger, columnist and speaker. Her columns, "From the Olive Orchard" and "Recycled Recipes from Vintage Boxes", appear in newspapers, newsletters and on Internet sites. Ann Marie has also demonstrated her recipes on local television. Currently she divides her time between Western Maryland and Texas.