Clinton rally attracts state-wide attention in Maryland
Hillary Clinton took time off from her Democratic New York primary schedule to rally Maryland supporters during a quick visit to South Baltimore Sunday afternoon.
About 1,500 people attended the Maryland event, according to campaign spokeswoman Julie McClain,  Even more waited patiently in the crisp sunshine, some for as long as two hours, before being turned away.
Contrary to reports from media pundits pointing to Clinton's eroding popularity, the atmosphere was festive and decidedly upbeat outside the City Garage in Port Covington, where the long line of Hillary admirers snaking around the massive complex stood for hours before gaining admittance. In spite of troubling polls and a string of recent losses to her Democratic opponent, Sen. Bernie Sanders (Vt), Clinton enjoys a healthy double-digit lead in Maryland.
"I heard there was an enthusiasm gap," said Derek Falzoi, 32, of Silver Spring, "but I don't see one." When asked why he supports Clinton, Falzoi laughed. "Do we have all day?" he asked facetiously. Ticking off reasons on his fingers, he summed up by saying, "She's the most realistic and least idealistic of all the candidates. She has a fundamental understanding of each aspect of what it takes to be president."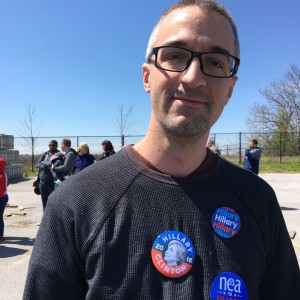 Falzoi's sentiments were echoed up and down the line, which looked like a slice of metropolitan America—young and old, black and white, Muslim and Jew, gay and straight. They came from all over Maryland, and, in the case of a couple visiting Washington, DC, all the way from California.
Arnold Siegel and Susan Futterman, both in their early 70s, were vacationing in Washington, DC when they heard about the rally.
"She's so rational," said Futterman. "This world is in a volatile state, I don't see anyone else who can do the job. She's so calm," she added. "No foreign leader wants to be yelled at," she said, alluding to Donald Trump's bombastic style.
Siegel agreed. "We need someone who knows about foreign affairs. This is a dangerous world." He smiled and added, "It's time for a woman!" Both are from Pasadena, CA.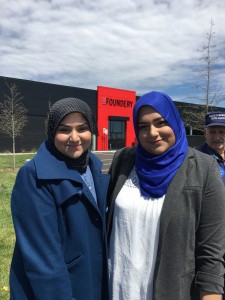 Closer to home, two sisters from Owings Mills also showed up to hear their favorite candidate. "We are here because we think she is a candidate who represents everyone," observed Nimra Jamil, 22, who came with her 18-year-old sister, Hiba. "We are happy she shares our views on issues like immigration and health care."
Around the bend in the queue, it was the same story. "Her ideas are the most realistic," said 28-year-old Maria Frazier, of Hyattsville who was there with her friend Shannon Hughes, 27, of Baltimore. "I like her policies, and that she will carry on President Obama's initiatives."
Jerry Smith, 59, lives in Howard County and teaches in Prince Georges County. "When Kennedy came to Baltimore, my father took me to see him. I still remember that. Now I can tell my students I'm going to see the next president!" He says he supports her because, "she understands the issues," noting her expertise in foreign affairs and her sensitivity to the needs of women.
After the long wait outside in the parking lot and an equally long one inside the packed hall, Clinton's fans were not disappointed. The program was filled with red meat for the grass roots, sporting an all-star appetizer that included former Congressman Kwaesi Mfume, Senators Barbara Mikulski and Ben Cardin, and Congressman Elijah Cummings.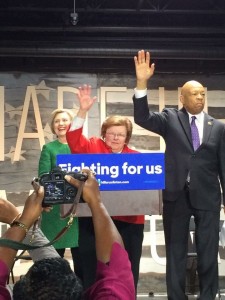 Cummings, who introduced the presidential hopeful, was also there to make news. "Just so it will be abundantly clear," he pronounced, "I am endorsing Hillary Clinton for president." He has delayed an official announcement until now because it was not considered seemly while he was the ranking member on the House Select Committee on Benghazi.
Cummings also took a moment to recognize Clinton's most immediate threat. He said, "I have two words for Bernie Sanders: Thank you," praising Sanders' passionate advocacy for progressive issues. "But I know Hillary Clinton," he continued. "I knew her as first lady, I knew her as senator, I knew her as Secretary of State."
Clinton, for her part, electrified the crowd, creating a call-and-response cadence with her acerbic remarks and biting one-liners that drew wild cheers and fist bumps. She spoke largely extemporaneously with few notes for almost 45 minutes, without losing a beat. None of the stridency that has emerged in 10-second sound bites was apparent in the context of this long speech that was conversational at times, peppered with anecdotes, jokes and local references.
In sharp contrast to some of Donal Trump's rallies, which have turned violent at times, the speech was interrupted momentarily by small groups of protestors, whose message was drowned out by spontaneous chants of "Hill-ar-y, Hill-ar-y," from the crowd as they were led away by security. It was unclear what they were protesting.
Although she delivered what has become a familiar stump speech, touching on all the big issues, Clinton customized her remarks with comments about the Red Line (which she supports) and "hundreds of billions of dollars" of aid for East and West Baltimore, including $20 billion earmarked for jobs for young people.
About guns she said, "If a rare disease was killing 33,000 Americans per year, you know we would be doing something about it."
In a dig at Sanders, who voted for a bill that provides immunity to gun manufacturers, she added, "No other industry in America gets a free pass like the NRA," drawing loud whoops from her listeners.
On affordable college tuition, Clinton wondered why people can refinance their houses, but not their college debt, and suggested amnesty after 20 years for those who have kept up their payments. Referring to Sanders' universal free college proposal, she joked, "When someone tells you something is for free, ask for the fine print."
Turning her attention to her Republican opponents, her pithy remarks brought the house down. "They're not held to any standard of reality. They inhabit an alternative universe," she said, to loud laughter and applause. She vowed to end Citizens United, which she called "pernicious and corrupting," even if it requires a constitutional amendment.
Clinton ended with a familiar mantra. "They want to turn the clock back on all of our progress," she said, citing "human rights, civil rights, women's rights, gay rights, voting rights, workers rights." She told her supporters, "It is time for us to start acting like the caring country I know we are."
Outside, as people were held back yet again by security, waiting for Clinton's motorcade to pass, Mya Davis stood on the curb with her mother, Cherrice. "She's one of my heroes," said the young woman, bubbling with excitement. Mya, 17, will turn 18 next week, just in time to vote in her first election.

Ruth Goldstein is a retired registered nurse, sporadic journalist, community advocate, and lifelong resident of Pikesville. A practicing vegetarian since she was a college student, she has been inventing recipes and writing about food for more than 30 years. In addition to her cooking practice, her other areas of interest are human rights, end of life issues, teaching English as a second language, and gardening. She spends her leisure time watching British TV dramas, following politics, reading in bed, and dreaming about future art projects.