Cioppino: An American original from San Francisco, Christmas Eve tradition
Chop a little of this, a little of that, and mix with leftovers from the sea catch of the day. Add to cooked tomatoes in wine sauce and you have Cioppino, a tomato based stew seasoned with basil, parsley and other Italian seasonings. Serve with sourdough, French bread, polenta or rice. It's a great meal to serve when the family gathers for Christmas Eve or any festive time of the year.
This traditional Italian-American dish originated in the North Beach area of San Francisco in the late 1800s. After the influx of gold seekers during the California God Rush, Italian born fishermen quickly settled in this area. Many arrived from sea ports on the West coast of Italy, mostly from Genoa and the Ligurian coastal areas.
Dungeness crab, shrimp, scallops, clams, squid, mussels and cod or halibut are typical sea foods found in the San Francisco area and remain the centerpieces of the recipe. However, each region of the country can define its own" catch of the day" by visiting local fishing docks or checking out the fresh fish section of local grocery stores. Nothing wrong with frozen fish and seafood offerings either. Depending on where you live, don't overlook canned items. Just realize the salt content is usually higher than fresh seafood.
I haven't used blue crabs yet, but they are on my list.
Each recipe varies in complexity and cooking time. Ingredients differ too, though the use of Italian spices is constant. There are variations in amounts, seasonings, cooking time and/or seafood choices.  Any firm white fish can be substituted for the halibut or lingcod. I prefer cooked crabs and clams over live ones.
I also ask at the fish counter for leftover chunks of filets or whole fish. They're usually less costly but just as fresh and tasty. I'm not fond of cooking a whole fish and then having to skin and debone it later.
The following recipe is a fairly easy version which allows for personal differences. It originated in San Francisco and has been passed down since the early 1900s. Mangiare bene!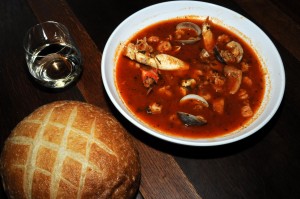 Noni's Cioppino
Serves 12-14
Handful of chopped parsley
2 heads of garlic, chopped
2 large onions, chopped
Chop the above ingredients and fry in ½ pint olive oil
Add:
2-3 tablespoons Italian Seasoning
2 lbs. halibut (cod, haddock or any firm white fish)
Cook until fish turns white.
Add:
½ bottle of dry white wine.
Simmer 15-20 minutes
Add:
8-8oz. cans of tomato sauce
8-8oz. cans of water
Salt and Pepper to taste
Simmer about two hours. Remove bones and skin from Halibut. Add more salt if necessary.
45 minutes before serving:
Add 2 lbs. medium prawns (deveined & wash ahead of time)
20 minutes before serving:
Add 1 dozen small clams (scrubbed and cleaned)
Add 6 crabs (6 lbs. in the shell), cleaned & cracked (wash & check for small pieces of broken shell)
Serve with rice, polenta. Two small loaves French or garlic bread.
Cioppino: St. Mary's Church, 1970s
2 cloves garlic, chopped
1 medium onion, chopped
Chopped parsley
Olive oil
1 sprig of fresh basil
1 large clean, cracked crab
1 lb. shrimp
1 lb. lingcod (Use a whole fish or a filet that can be easily skinned and deboned)
1 can solid tomatoes, chopped
3 small cans tomato sauce
1 cup of water
Salt, pepper and paprika
Brown garlic, onions, parsley, basil in olive oil. Add lingcod and brown. Then add tomatoes, tomato sauce, salt, pepper and paprika. Cook 45 minutes. (Remove bones and skin) Add crab and shrimp and cook approximately 15-20 minutes or until crab and shrimp are done. Serves 4.
Why We Use Recipes:
I guessed the pepper,
The soup was too hot.
I guessed the water,
It dried the pot.
I guessed the salt,
And what do you think?
We did nothing else the
Whole day but drink.
I guessed the sugar,
The sauce was too sweet,
And so by guessing
I spoiled our treat.
And now I guess nothing,
For cooking by guess
Is sure to result
In a terrible mess.
Lupe Cardenas
Here is a classic San Francisco Recipe from San Francisco Firehouse Favorites, 1965 (currently out of print). A good cook can never go wrong following a Firefighter's recipe, east coast or west coast and every state in-between.
Crab Cioppino Treganza: Art Treganza, Airport Rescue Company No. 3
2 large onions, chopped
3 stalks celery, thinly sliced
4 medium sized carrots, very thinly sliced
1 cup chopped parsley (Italian leaf)
About 6 tablespoons olive oil
1 large clove garlic, minced or mashed
5 cans (8 ounces each) tomato sauce
2 cups of water
1/8 teaspoon each, dried and crumbled: thyme, rosemary, and sage
3 live crabs (Dungeness or snow), washed and cracked (precooked crab legs work fine and save time)
3 lbs. cockles (or clams) in shells, well-scrubbed
1 pound medium-sized raw prawns
About 2 pounds fillet of cod or other white fish
1/3 cup dry wine
Salt and Pepper
Additional chopped parsley
In a large kettle, sauté onions, celery, carrots, and parsley in olive oil until onions are limp. Add garlic, tomato sauce, water, thyme, rosemary and sage; cover and simmer for about 45 minutes or until carrots and celery are tender. Add crab; top with cockles. Cover and simmer 30 minutes. Add prawns; top with cod. Cover and simmer 10 minutes more. (Do not stir but gently shake pot occasionally.) Add wine, season sauce with salt and pepper if necessary and simmer 5 more minutes more. Ladle into large serving bowls. Sprinkle with parsley. Makes 6 generous serving.
Feel free to reduce the amount of vegetables.
Curing earaches: Before penicillin and other antibiotics were available, mothers poured small amounts of holy water or warm olive oil into the ear canal. Home Remedies.

Ann Marie Bezayiff received her BA and MEd from the University of Washington in Seattle. She is an author, blogger, columnist and speaker. Her columns, "From the Olive Orchard" and "Recycled Recipes from Vintage Boxes", appear in newspapers, newsletters and on Internet sites. Ann Marie has also demonstrated her recipes on local television. Currently she divides her time between Western Maryland and Texas.