Cinderella: Fanciful fairy tale takes flight at Hippodrome Theatre
Is it possible for a television classic to become a Broadway staple? It's possible – if the classic is Rodgers & Hammerstein's Cinderella , the latest offering at the Hippodrome Theatre.
Skillfully staged by Worklight Productions, Cinderella is the only Rodgers & Hammerstein collaboration written specifically for television. The book is based largely on Charles Perrault's 1697 version of the time-honored morality fable, from his Histoires ou Contes du Temps Passé (subtitled Les Contes de ma Mère l'Oye or Tales of Mother Goose).
Julie Andrews originated the part of Cinderella in the first (1957) small-screen production. Eight years later, Leslie Ann Warren played the long-suffering step-child in a television reboot, which retained most of the music and story from the 1957 CBS tele-play. Subsequent efforts have included (amongst others) a widely acclaimed, inclusive take by Disney, and several New York City Opera productions.
Cinderella made its Broadway debut in 2013, featuring new twists by writer Douglas Carter Beane, direction by Mark Brokaw and choreography by Josh Rhodes. The new twists helped to flesh-out the 90-minute original to fill two hours on the Broadway stage.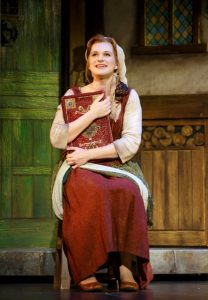 The tale, of course, is a standard of children's literature. In a mythical forest, a young woman named Ella tends house for her cold-hearted stepmother (Madame) and her two simpering stepsisters (Gabrielle and Charlotte). Madame mockingly calls Ella "Cinderella", because she is as dirty as the cinders from the stove. Ella's single chance to escape her cruel existence comes when a handsome young prince named Topher hosts a ball expressly for the purpose of finding himself a bride. The ragged girl needs a miracle, which appears in the form of her fairy godmother; and with the wave of a wand, Ella is soon on her way. But Ella's outward transformation only serves to underscore the inner beauty that was already there.
As noted, the Broadway production expands the original television version by over thirty minutes. To accomplish this, the producers added a few additional songs from the Rodgers & Hammerstein catalog. They also went back to Perrault's original story, which, according to playwright Beane, was a thinly veiled satire of seventeenth-century French politics. The end result is a show which tends to beat the drum of political correctness, while lightly lifting the audience to a happily-ever-after ending.
Fortunately for theatre-goers, the immortal story remains largely intact, and for lack of a better word, Rodgers & Hammerstein's works are mostly bulletproof. Also fortunate is the fact that this show is a real musical, and the producers have assembled a cast of truly wonderful singers and dancers.
Stand-outs include Tatyana Lubov as Cinderella and Leslie Jackson as the fairy godmother, Marie. The duo pair well through several scenes, including two magical transformations, and are especially appealing trading questions and answers in the show's most memorable number – "Impossible".
Johanna Johnson is an absolute hoot as the copious stepsister Charlotte, taking her well-deserved turn in the spotlight for the "Stepsisters Lament". Sarah Primmer and Mimi Robinson ably round out the fractured family unit as Madame and Gabrielle.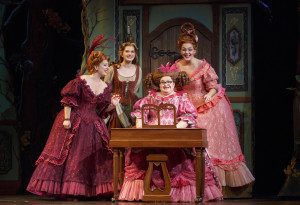 Hayden Stanes is solid in the role of the engaging and earnest Prince Topher. Vocally, Stanes' best moments are in the tender duets with Lubov, "Ten Minutes Ago" and "Loneliness of Evening".
Ryan M. Hunt stamps his "imprimatur" (if you don't know how to pronounce it – look it up) as the menacing aide to the prince, Sebastian. Chris Woods' character isn't terribly likable, still, he deftly darts about as the energetic rabble-rouser, Jean-Michel. Vincent B. Davis brings a lush tenor to the part of Lord Pinkerton. And Chloe Fox (who appears in several roles) makes an effective Lady of Ridicule.
On a whole, the acting and dancing of the ensemble is a real treat. Casting director Adam Caldwell is to be commended.
The music, under the baton of Charlie Reuter, is opulent but never overpowering. All is well on the technical side, but a special shout-out to costume designer William Ivey Long. If you go, keep an eagle eye on Cinderella. Her transformations from rags to riches are truly astounding.
Also, credit Anna Louizos for the amazing scenes surrounding Cinderella's trip to the ball. The pumpkin-to-golden carriage moment is absolutely breathtaking, as is the blissful journey itself – an ethereal, sparkling, cloud-bathed flight to her fabulous future home.
On a side note, it was a pleasure to see so many parents with children in attendance on opening night. Unlike 1957, today's musical theatre must compete with hundreds of TV channels and an ever-increasing number of menacing online games. Children are constantly bombarded in this milieu by the ugliest of life. What a joy that families can still share the beauty of a show like Cinderella.
* * * * *
Cinderella runs from now – November 6 at The Hippodrome Theatre at The France-Merrick Performing Arts Center . The theater is located at 12 North Eutaw Street, Baltimore, Maryland. Tickets and other information may be found by visiting the Hippodrome online or by calling the box office at 410-837-7400.

Anthony C. Hayes is an actor, author, raconteur, rapscallion and bon vivant. A one-time newsboy for the Evening Sun and professional presence at the Washington Herald, Tony's poetry, photography, humor, and prose have also been featured in Smile, Hon, You're in Baltimore!, Destination Maryland, Magic Octopus Magazine, Los Angeles Post-Examiner, Voice of Baltimore, SmartCEO, Alvarez Fiction, and Tales of Blood and Roses. If you notice that his work has been purloined, please let him know. As the Good Book says, "Thou shalt not steal."