Baltimore business executives sample a 'Taste of Mexico'
View of Mexico City along Paseo de la Reforma. Last year, Mexico ranked as the third-largest trading partner of the United States (after China and Canada), accounting for 13.5 percent of total U.S. trade with the rest of the world. (Larry Luxner)
With so much hype these days over the booming consumer markets of China and India, Maryland executives shouldn't forget about their big neighbor to the south: Mexico.
That's the word from Antonio Ortíz Mena, head of economic affairs at the Mexican Embassy in Washington. While it's true that China and India alone account for 36 percent of the world's population, neither the 1.3 billion Chinese nor the 1.2 billion Indians buy as much from the United States as do the 119 million people of Mexico.
"A lot of people don't realize how significant this is," he said. "To put things in perspective, we tell people the U.S. exports more to Mexico than to Brazil, Russia, India and China combined. So tradewise, we're bigger than the BRICS. And the U.S. sells more to Mexico than to China and Japan combined."
Ortíz spoke Feb. 12 at "A Taste of Mexico and Central America" — an event organized by Baltimore's World Trade Center Institute. Also appearing on the WTCI podium was Melissa Gómez, director of product management at Laureate International Universities, a Baltimore-based network of 84 institutions of higher learning around the world.
Mexico is now the second-largest destination for U.S. exports, and the third-largest trading partner of the United States, said Ortíz, who has a master's degree from the University of London and has been at the Mexican Embassy in Washington since 2007.
Ortíz spoke at the 20th-floor offices of Duane Morris LLP overlooking Baltimore's Inner Harbor, as his audience savored hot tamales, arróz con pollo, enchiladas and ice-cold Modelo beer.
"Two years ago, President Obama met in Mexico City with President [Enrique] Peña and launched a high-level dialogue," he said. "That's a fancy way of saying we're getting governments on both sides of the border to support business so we can keep reducing transaction costs and boost investment flows."
Imports coming to the United States from China, Japan, Europe and South America contain no more than 4 percent worth of U.S. value-added components, while for Canadian imports, the figure is 25 percent, and for Mexico, it's 40 percent.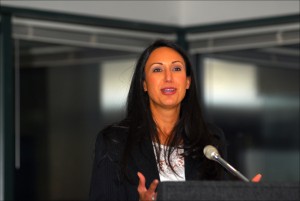 "We're more than trading partners. We have a joint production platform," he explained. "It's not only Windsor or Detroit anymore but also Mexico City. It's a North American platform for the automotive industry, and the same goes for aerospace. Canada's Bombardier has big investments in Querétaro. Integration is only growing deeper."
Put another way, the level of trade between the United States in Mexico comes to $1 million per minute, or more than $1 billion per day. Some 692,000 jobs in California alone depend on that trade, with Texas, New York, Illinois, Pennsylvania and Ohio following closely behind.
Ortíz cited a PriceWaterhouseCoopers report which predicts that by 2050, Mexico will rank as the world's seventh-largest economy — behind China, the United States, India, Brazil, Japan and Russia, in that order.
"We have carried out far-reaching reforms in the telecom sector, and our energy sector — which has vast shale and deep-sea oil resoures — has seen Mexico's biggest reforms in 70 years," he said. "Late last year, we finished negotiating a bilateral aviation agreement with the U.S. that covers passenger and cargo and that also promises to be a game-changer. The Mexican Congress will most likely ratify it sometime this year."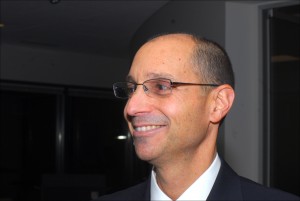 In addition, said Ortíz, Latin America's largest airport is now being built in Mexico City, adjacent to the existing international airport.
"That will ensure world-class connectivity and will really position us to become the seventh-largest economy in the world," he said. "It's very good that Mexico and the U.S. are neighbors. We're joined at the hip for good."
Asked about security concerns, Ortíz conceded that violence is a problem in specific areas controlled by drug cartel — but that "the situation has improved dramatically" in Ciudad Juárez and other border cities thanks to the Mexican federal government, local municipalities and civil society working together.
"The same goes for Tijuana. It is now much, much safer than it was only a few years ago," he said, adding that despite all the negative publicity, Mexico City's homicide rate remains lower than that of the District of Columbia.
"Sometimes, potential investors will express a vague sense of concern, but they really don't' know what their concerns are," he said. "Mexico is a very large country. It's as if you said you would not go to the U.S. because of crime in Chicago or Detroit. Well, we have a similar situation."
Surprisingly, one thing Ortíz didn't mention was the North American Free Trade Agreement, which took effect in January 1994 amid controversy. These days, he said there's little doubt that NAFTA has been a huge boost to the Mexican economy.
"People are vaguely aware of NAFTA but are not very familiar with its benefits," he told us. "Whenever you talk about NAFTA, people get emotional and they don't let evidence get in the way of opinions. So I just focus more on where we are now, and how much we'll trade in the future."
Laureate's Gómez, who has worked throughout Latin America, said knowing cultural do's and don'ts is extremely important to the success of a business trip to Mexico — especially if your Spanish is not very good.
"Someone will probably pick you up from your hotel, because not many foreigners drive in Mexico," she said. "If you're working with a traditional Mexican company, you might have a business breakfast that takes an hour and a half. And a business lunch might start at 2 or 3 p.m. and go for two, three or even four hours."
Other things do remember:
Whether it's face-to-face or via teleconference, 80 percent of meetings will not start on time. "And even if they do, we will still spend the first 10 minutes talking about our kids or whatever we did last weekend before jumping into business."
Do business in person whenever possible, says Gómez, and "always find a local partner who will help you see cultural aspects that might not be obvious to you."
Don't assume that because you did something that impressed a business partner in Mexico, it'll be the same in Chile or another Spanish-speaking country. As Gómez said, "It's like an American doing business in Great Britain. You can't assume everything will be the same in Australia and Canada just because we all speak English. Make sure not to generalize."
It should be rather obvious, but try to learn conversational Spanish. "It's really nice when Americans come and make an effort to say a few phrases in Spanish."
Bring a translator with you, if possible. Obviously in border cities, you will find someone who speaks English.
Finally, she said, use a little common sense and nothing tragic will happen to you.
"I always reference Baltimore, in the sense that if you're with the wrong people, and in places where you have no business, you might get in trouble," Gómez advised. "But if you follow professional protocols, you're going to be OK. It's the same thing when you're traveling in Mexico, as long as you're not a college kid looking for drugs. Like in any large city, be aware and stay with the groups you're supposed to be with."

Larry Luxner is news editor of The Washington Diplomat and former editor of CubaNews. Born and raised in Miami and based in Bethesda, Md., since 1995, Larry has reported from every country in the Western Hemisphere. His specialty is Latin America and the Middle East, and he's written more than 2,000 articles for publications ranging from National Journal to Saudi Aramco World. Larry also runs an Internet-based stock photo agency at www.luxner.com.