UFC Champion Jon Jones, challenger Glover Teixeira square off with Baltimore press
The highly coveted UFC Light Heavyweight Champions belt (Anthony C. Hayes)
As pre-fight press conferences go, this had to be one of the most cordial events ever offered.
For almost two hours Wednesday, at the Hotel Monaco, Ultimate Fighting Championship (UFC) champ Jon Jones and challenger Glover Teixeira met with Baltimore area reporters to discuss their upcoming World Light Heavyweight Championship fight.  This fight (UFC 172), which will take place on April 26, will be the first of its kind at The Baltimore Arena.
The battle-hardened warriors carried on a friendly conversation, answering a mix of questions during two separate sit-down sessions.  Absent was the hype one might expect from contenders at the top of their game.  These men are professionals and conducted themselves with aplomb, grace and good humor.
The challenger, Glover Teixeira (with a record of 22-2-0) is 34 years old.  He stands a rock-solid 6'2″ and will weigh 226lbs when he steps into the ring.  Teixeria came to the UFC late in his career; still, three of his first five bouts were decided in the first round.
Teixeira sees his advantage going in as his ability to power punch.  "I'm confident that I can hit him with any punch I have."
Someone asked how Teixeria will deal with Jones reach advantage? (Jones has the longest reach of any UFC fighter.) "I'm gonna have to call Mike Tyson and ask him that question," Teixeria smilingly replied.  "Everybody used to ask Tyson the same question.  After April 26, everyone will be asking, 'How are you gonna deal with Glover's power?'"
Teixeira said he became a fan of boxing at a young age; particularly a fan of Mike Tyson.  Because of the time difference between Las Vegas and his native Brazil, his father would have to wake him up sometimes at 3:00 AM to watch his hero in action.  Years later, Teixeira would finally have a chance to become friends with the troubled champion.
"I met Mike at one of my fights in Vegas.  I never dreamed I would ever meet him, and there he was on the front row.  I gave him a wave and said 'Thank You.'  After the fight, he came over to congratulate me."
Growing up in Brazil, Teixeira developed his own training methods.  Lacking the prescribed equipment, he used to punch banana trees.  In time his father became concerned he'd damage the plants, so Dad filled a bag with sand and hung that from a mango tree.  "When it got wet, the sand was hard at the bottom, so I had to settle for hitting it on the top like a speed bag.  I really preferred hitting the banana tree."
"As painful as it sounds, banana trees have a little give.  Not like the cocoanut tree (Jean-Claude) Van Damme kicked over in that movie."
Teixeira paused briefly to compare the sport today to the way it was played early on, when fighters would specialize in one form of fighting over another.  "Back then, it was all Kung Fu or Jiu-Jitsu or whatever the fighter had.  Now, everybody knows everything.  We all train in all the various forms (of fighting)."
For the record, Teixeira holds a black belt in Jiu-Jitsu and his favorite strike is a devastating left hook.  He will need both when he steps into the ring with Jon Jones – his toughest opponent yet.
"Some others may have had better boxing or kick-boxing skill, but he is the total package," Teixeira said.
"Jon is a smart fighter.  He usually waits to make his move.  I'm an aggressive guy, so it should be a good fight to watch."
On the subject of trash talk, he asserted, "Look, it's going to be a great fight.  We don't need to talk trash."
Teixeira acknowledged that Jones (who has a huge following here) may be a Baltimore favorite, but he also noted that he has seen a crowd turn with the fortunes of a fighter.  "If you're doing well, a crowd will usually get behind you," he said.
Now at an age where many fighters start to think of retiring, Teixeira said he will see how long he can go in the fight game.
"It all depends on how my body feels.  I started late, so I think I have a lot more miles.  I may go for another 6 years, but I have to listen to my body.  Right now I'm in good shape and I'm anxious to get to the top.  As long as your head is in it, you can go on.  But after you're done, you have to go on and live your life.  This is my dream right now, to be the champ.  If I win, it will be my baby.  I will think about going on when the time comes."
Going on and living your life – in one piece – has been a hot topic since Anderson Silva suffered an horrific leg injury in UFC 168 last December.
The specter of Anderson's injury – and what may have caused it – looms large over the UFC. Some speculate that bone weakening anti-inflammatory drugs may have played a role.  But Teixeira says, in his mind, it was like a car accident. "These things happen.  I don't know if anti-inflammatories had anything to do with his injury.  Anyone can break a bone."
Someone asked if he thinks that Jones is looking beyond him as a contender?
"It doesn't matter," smiled a confident Teixeira, "He's going to have to fight me anyway."
***********************************************************
The champion, Jon "Bones" Jones is clearly not looking past Glover Teixeira.  At 26, this will be the seventh time Jones is defending his title.
In his last bout, Jones (19-1-0) defeated Alexander "The Mauler" Gustafsson in a unanimous decision.  Standing 6'4″ and weighing 205 pounds, Jones has the look and the bearing of a champion.  But he is quick to point out that titles mean nothing when it comes to the actual event. Maintaining his composure is the key to his game.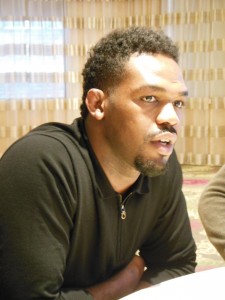 "I'm very confident right now and I am embracing my future."
Jones is also embracing Charm City.
Aside from the popularity which naturally comes with being the champ, Jones has developed a special following here in Baltimore.  His older brother Arthur is a defensive end for the Ravens.  (A younger sibling – Chandler – plays defensive end for the New England Patriots.)
"This Baltimore date was offered and I thought, wow, that's kinda cool.  It's a great city, plus it's an easy drive for my family and friends in New York.  I've adopted Baltimore as one of my home towns; I feel a lot of support from Ravens fans.  Fighting where the Ravens play.  That's kinda cool, too."
Jones demurred when asked about the noticeable absence of press day hype.
"I know what he can do.  He knows what I can do.  There is no reason to hype this fight.  We both have our job to do.
Fighting as the champ, I'm fighting against guys who are highly motivated.  They are training their hardest they ever have.  They have additional coaching, do additional work in the gym, they study video.  But so am I.  I'm an extremely dangerous, motivated person."
For Jones, part of his motivation comes from getting into "the zone."  He believes the creative side and the work ethic side have to come together for him to be ready.
"I'm looking for my zone to come back.  I game plan and strategize every fight.  I just study, study, study.  I don't watch my own video, but I have watched all of his.  I know what his game is and at his age, he's not going to change.  I know what he will do in a clench – what way he likes to lean his head.  So I'm training for his every move."
What about Jones' personal training routine?
"Some guys are in the gym all the time.  I save my body.  I take time out.  I do a lot of swimming.  And I have what some would say is a weird mental approach.  But that's what I've been doing since I was 23.  I prefer to sprint rather than to spend my life in the gym."
"I look at fighting as something that has changed my life, but I'm more than just a fighter.  I plan on getting out when I'm in my early 30's and I'm still on the top."
Jones says the UFC hosts a fighters summit where competitors can learn key skills, like how to manage  money, how to protect yourself in the public arena, how to handle social media, etc.
"This is a great opportunity for all of the fighters," he concedes. "I just want to do it right."
"Years ago, my coach said, 'You're all right.'  'You're all right' has gotten me through a lot."
The champ admits that his faith plays a huge role in his life; not only on the personal side (Jones has Philippians 4:13 tattooed on his chest), but also in his approach to his game.
"I won't say God blesses me to beat up other fighters – that would tick a lot of people off.  But I will say that I draw a lot of strength by tapping into a Higher Power and staying positive.  As long as I have good intentions, I am blessed."
It may not be a blessing, but from everything this reporter gathered, UFC fans are in for an exciting fight.
In Jones' estimation, the big selling point for this event is the fact that both fighters are virtually undefeated.
"That is the thing," Jones said.  "One of us is going to lose."
UFC172 – Jones vs. Teixeira – takes place April 26  at the Baltimore Arena.  Tickets for this event go on sale Friday, February 7 at 10:00AM.  Tickets and other information for this event may found by visiting the Arena online.

Anthony C. Hayes is an actor, author, raconteur, rapscallion and bon vivant. A one-time newsboy for the Evening Sun and professional presence at the Washington Herald, Tony's poetry, photography, humor, and prose have also been featured in Smile, Hon, You're in Baltimore!, Destination Maryland, Magic Octopus Magazine, Los Angeles Post-Examiner, Voice of Baltimore, SmartCEO, Alvarez Fiction, and Tales of Blood and Roses. If you notice that his work has been purloined, please let him know. As the Good Book says, "Thou shalt not steal."