Three honks for Goose at the Drive-In
Peter Anspach: vocals/guitar/keyboards. Photo by Andy Jillson.
Goose @ Showtime at the Drive-In, Frederick, MD
It's been a tough year for lovers of live music in general, let alone the jam band crowd. Every summer, some of your family members, friends, colleagues, and neighbors are tearing off their work clothes to reveal tie-dyed tank tops and t-shirts printed with inside jokes and references.
They flock from venue to venue, often traveling across state lines, and many of them strive to attend every show associated with the genre in their area. After quarantine abruptly halted mass gatherings, fans were forced to make do with archived videos from previous summer tours and the occasional live stream from a sympathetic artist. Enter the drive-in concert.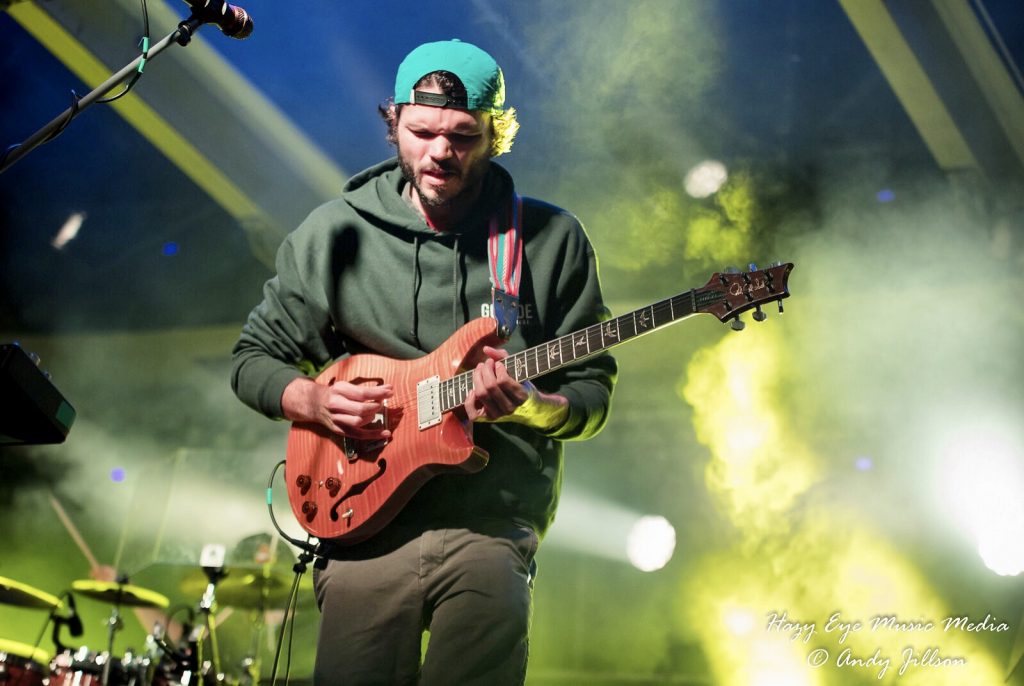 Goose, a self-proclaimed "indie-groove" quartet hailing from Norwalk, CT, flew to our aid as the leaves started changing, embarking on a five-show run of drive-in outdoor shows across the eastern US, culminating with a finale in rural Frederick, MD. Relative newcomers to the jam community, Goose have made a name for themselves since their 2016 studio debut, "Moon Cabin."
Lead vocalist/guitarist Rick Mitarotonda addressed the buzzing crowd as the lights went down at 7:12 PM: "Real talk, you guys…we sold this place out on Monday. We've only played, like four Monday shows in our entire lives!" Drummer Ben Atkind launched into set opener, "Drive", as the modestly sized fairground just off of Route 70 instantly transformed into a party. Inflatable green aliens, blow-up furniture, and glowsticks materialized as Goose seamlessly transitioned into "Doc Brown" a reggae-tinged jam vehicle originally performed by Great Blue, another musical project of keyboardist/guitarist/vocalist Peter Anspach.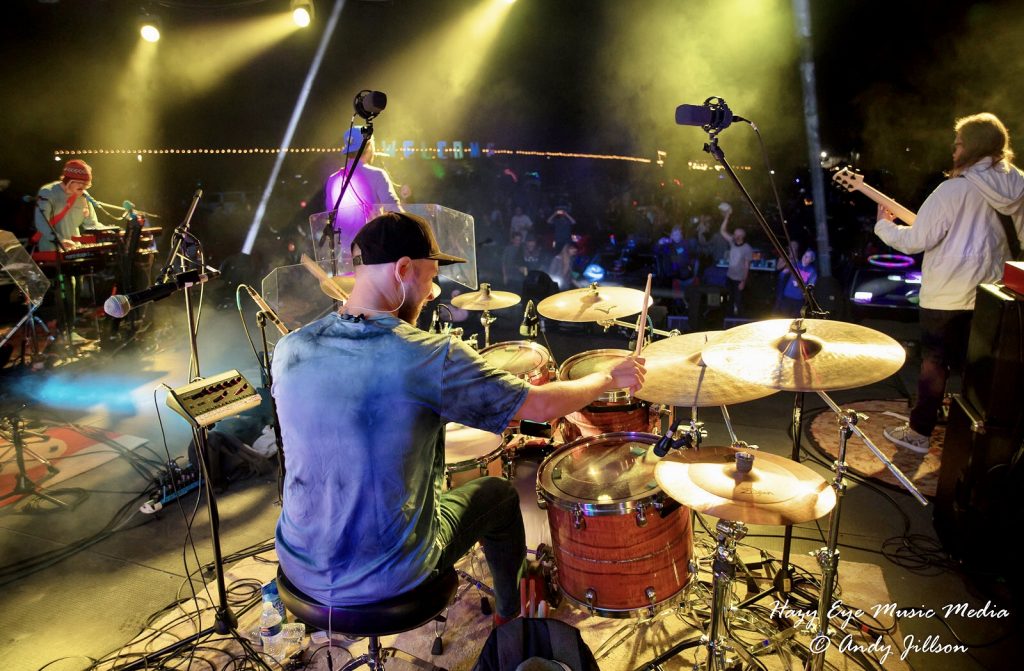 Goose stands out amongst its peers with unusually crisp vocal harmonies, tastefully clean guitar riffs, and an immaculate rhythm section, anchored by bassist Trevor Bass. Anspach's clavinet interspersed with percussive rhythm guitar from Mitarotonda immersed the socially distanced crowd in a funky groove that transformed into a raging peak.
As it subsided, baritone chants of "Goooooooooooose" me of late-90s Ravens games every time Tony Siragusa made a backfield tackle. Anspach shone amidst green and white lights during the blissful, keyboard-heavy jam of "AUATC", Goose's first live rendition of Bon Iver's newest single. Goose didn't stop playing for the remainder of the set, seamlessly transitioning "Jive I" into "Jive Lee" into "Indian River" into set closer "Time to Flee (Reprise)", giving the crowd a few minutes to visit the food trucks behind all of the parked cars during a brief set break.
Fans were treated to an impressive light show, complete with lasers and fog machines, during the jam-heavy second set. Synth and percussion-forward "Fish in the Sea", a cover of New Zealand-based Fat Freddy's Drop, established the tone for a set comprised of only five songs that each fell around the ten-minute mark. Goose reprised show opener "Drive" and transitioned into "Rosewood Heart", followed by "Travelers", without any breaks.
After an excellent blues and jazz-inspired rendition of "Turned Clouds", Mitarotonda informed the crowd that due to a strict 10:00 PM curfew, there was no time for a walk-off encore. He invited Pigeons Playing Ping Pong drummer Alex "Gator" Petropulos on-stage for a cameo on tambourine during the evening's final song, singalong-friendly "Hot Tea". Air horns and car horns mixed in with applause and cheers reminded me that I had spent the last few hours enjoying live music in a private 8×6 foot area surrounded by personal vehicles, and during the painless exit from the makeshift venue, I couldn't think of a time where I'd ever had more fun while wearing a mask.
Set 1
Drive

Doc Brown

So Ready

AUATC

Jive I

Jive Lee

Indian River

Time to Flee (Reprise)
Set 2
Fish in the Sea

Drive (Reprise)

Rosewood Heart

Travelers

Turned Clouds (with Hot Tea tease)

Hot Tea (encore, no walk-off)

Alex May has been attending concerts in the DMV for his entire life. He was born and raised in Maryland, attended college and graduate school in Virginia, and lives in DC with his girlfriend and dog. He believes all music sounds best live, and he never misses a Sunday show.