San Bernardino reeling from shootings
BREAKING NEWS, SAN BERNARDINO, CA, December 2, 2015: At about 11 a.m. local time the San Bernardino Police Department took a series of 9-1-1 calls saying there was at least one person shooting up the Inland Regional Center, 1365 S Waterman Ave, San Bernardino, CA.
Local news outlets are reporting at least 20 people have been shot and there are at least 12 fatalities. Authorities have confirmed three dead and 20 injured. Witnesses said they heard 25-30 shots fired. A school for the blind is in the same complex and employees said they heard the shots and had a number of people from the IRC run into their building seeking shelter.
One man tweeted that his daughter, who works at IRC, texted him saying she was locked in her office and safe. Another man said his sister texted and said she was hiding in a closet with others.
The Inland Regional Center is a non-profit organization that provides services to those with developmental disabilities and others in need.
The shooter — or shooters — are heavily armed and wearing body armor — tactical gear — according to authorities. Multiple S.W.A.T. units have responded and at least one bomb squad is diffusing what appears to be an explosive device. Authorities seem to believe there is one suspect, but say there could be more.
The police have cleared the public golf course across the street from the center to use as a staging area and for escorting the IRC employees and wounded to a safe place. The fire department was asked to move back and they set up a triage in the street.
First responders are attending to the wounded and dead and local hospitals; Arrowhead Medical Center and Loma Linda University Medical Center in particular, have begun treating the wounded.
The hundreds of employees in the two buildings were escorted out of the area at gunpoint, although law enforcement was probably concerned with an active shooter moving with the employees, not scaring the victims. Authorities are now conducting a room-to-room search.
Both the FBI and ATF are responding, although authorities say the San Bernardino Police Department is taking the lead.
Some people on social media are referring to this as domestic terrorism, although no law enforcement has labeled it as such. Republican presidential candidates have expressed their condolences and Secretary Hillary Clinton tweeted, "I refuse to accept this as normal." Governor Martin O'Malley tweeted, "Horrifying news out of #SanBernardino. Enough is enough: it's time to stand up to the @NRA and enact meaningful gun safety laws."
The Inland Regional Center services over 30,000 people from the area.
The is story is developing and ongoing.
 •••• •••• ••••• •••• ••••
UPDATE: Police responded to a vehicle fitting the description of a dark-colored SUV leaving the shooting scene that was heading away from the IRC. Police pursued in a short chase.
Two suspects were shot during the ensuing gun battle and one of those men is believed to have died, although police have not confirmed that. Police are conducting building-to-building searches of the area for the third suspect.
Authorities confirmed 14 people are dead at the shooting scene at the Inland Regional Center and at least 17 others are injured.
Earlier in the day the San Bernardino Police Chief Jarrod Burguan referred to the crime as an act of domestic terrorism, telling reporters, "These people came prepared to do what they did as if they were on a mission." The authorities stressed this was not an international or Jihadist act.
The shooters entered the building and went to a banquet room where the San Bernardino County Department of Public Health was holding a holiday banquet and started shooting, according to Marybeth Feild, president of the IRC Board of Trustees who spoke with NBC News. But as of this time the motive for this mass murder has not been determined. When the suspect that is in custody is able we might learn why they did this. Law enforcement thinks it might be workplace-related, but they aren't sure of that.
Authorities were surprised that several hours after the original crime took place the three suspects were still within walking distance of that crime scene and in the vehicle that had been reported as being driven from the crime.
All municipal and county government buildings were put on lockdown as police search for the third suspect and try to determine if they acted alone or part of a larger conspiracy.
We now have had, in 2015, more mass shootings in America than days in the year.
 •••• •••• ••••• •••• ••••
UPDATE: Two people dead in the SUV, a man and a woman. The FBI obtained a search warrant for a home in Redlands, which is possibly connected to one or more of the suspects and Pete Williams of NBC News reported that the name of one of the dead suspects is Syed Farook.
Now the question is why? Was this an ISIS-related terrorist event? According to experts it doesn't fit the profiles of other mass murders, which have primarily been carried out by lone gunmen and the place/people targeted don't fit the profile of international terrorists. There is some speculation that Farook was a San Bernardino County employee who was in the banquet before the attack.
This is not resolved and events continue to unfold.
•••• •••• ••••• •••• ••••
UPDATE, DECEMBER 3: Authorities now have more information on the shooters: Syed Farook and his wife Tashfeen Malik. The two met when Farook went to Saudi Arabia in 2014, and they were married there. She came to America with a Pakistani passport.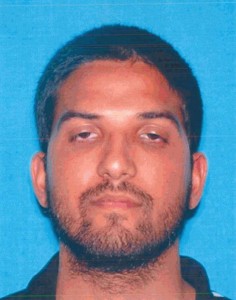 It is believed Farook was radicalized while in Saudi Arabia as was Malik. But authorities are not sure if this was just an act of terrorism or workplace violence. Farook worked with the people he and his wife killed for five years and witnesses said he was at the holiday party about 20 minutes before the shooting began. The witnesses said Farook attended the holiday party in the past.
They found 12 completed bombs in their apartment, plus material for more bombs, and over 1,500 rounds for the weapons they had, which included AR-15-type rifles.
Also found in the apartment: the Al Queda magazine Inspire, with descriptions of how to use bombs and how to use remote-controlled toy cars for use with bombs. At the scene of the shooting law enforcement found three pipe bombs lashed together that was set to explode, but didn't.
When the police caught up to the two, who were driving their SUV at the time, a major shootout took place, with the suspects throwing pipe bombs and firing 76 rounds at law enforcement. The police responded with over 300 rounds.
A third person, who was running away from the shootout, has been detained, but authorities are not sure if he is connected to the shootings at the IRC.
The police, FBI and ATF are continuing their investigations — with the FBI now taking the lead — focusing on the radicalization of Farook and his wife's role in the murders. They said they haven't ruled out any motives or explanations at this point, as they are looking at the computers used by Farook and Malik to see how and when they were radicalized. But, they are not going to call this Islamic terrorism or the suspects Jihadists.
Malik and Farrok leave behind a six-month old daughter, who is with her grandparents (presumably Farook's parents) in San Bernardino.
•••• •••• ••••• •••• ••••
UPDATE, DECEMBER 4: Authorities are now investigating this crime as an act of terrorism. Evidence of it being terrorism had been mounting, almost from the moment the murder occurred. In their investigation the authorities found not only a cache of ammunition and bombs, they found computers and phones with valuable information on them. They concluded the two had spent a lot of time planning the attack.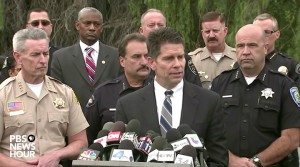 Farook and Malik also took time to cover their tracks, smashing all their digital communication devices, from cell phones to tablets and computers. Digital forensic technicians can retrieve some information from damaged equipment, but sources said not all information is retrievable once a phone or computer hard drive has been physically damaged.
They found out Tashfeen Malik had proclaimed her allegiance to ISIS on Facebook the day she and her husband committed the murders and that Syed Farook had been in contact with other people of interest.
Malik, a Pakistani native, had gone to Saudia Arabia after she and Farook met online through a Muslim dating site. The FBI isn't sure if that's where the two killers were radicalized; the most potent tool for recruiting and radicalizing followers is the internet.
Agent Dave Bodich, Assistant Director in Charge of the Los Angeles bureau of the FBI told the media, "As of today, based on the information and the facts as we know them, we are now investigating these horrific acts as an act of terrorism." adding, "We have retained those cellphones and we do continue to exploit the data from the cellphones. We do hope that the digital fingerprints that were left by these two individuals will take us towards their motivation. That evidence is incredibly important."
Bodich also said that while no other people have been arrested, he told the press, "It's possible there will be some in the future."

Tim Forkes started as a writer on a small alternative college newspaper in Milwaukee called the Crazy Shepherd. Writing about entertainment issues, he had the opportunity to speak with many people in show business, from the very famous to the people struggling to find an audience. In 1992 Tim moved to San Diego, CA and pursued other interests, but remained a freelance writer. Upon arrival in Southern California he was struck by how the business of government and business was so intertwined, far more so than he had witnessed in Wisconsin. His interest in entertainment began to wane and the business of politics took its place. He had always been interested in politics, his mother had been a Democratic Party official in Milwaukee, WI, so he sat down to dinner with many of Wisconsin's greatest political names of the 20th Century: William Proxmire and Clem Zablocki chief among them. As a Marine Corps veteran, Tim has a great interest in veteran affairs, primarily as they relate to the men and women serving and their families. As far as Tim is concerned, the military-industrial complex has enough support. How the men and women who serve are treated is reprehensible, while in the military and especially once they become veterans. Tim would like to help change that reality.