Momma Mia!: ABBA musical lays all its love on the Hippodrome
Cashelle Butler (as Tanya) lights up the stage in Momma Mia! at the Hippodrome.
How can a show with a paper-thin plot and jukebox songs from the disco era continue to pack venues around the globe, eighteen years after its West End premier? Here is the easy answer for all would-be super troupers: ABBA.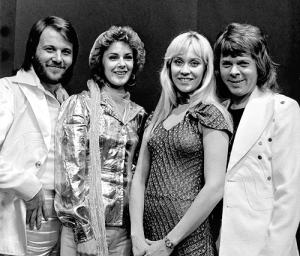 Mamma Mia! – Judy Cramer's award-winning musical, based on the songs of ABBA's Björn Ulvaeus and Benny Andersson – opened last night in Baltimore for a weekend run at the Hippodrome Theatre. The sound was too loud, the cast a decent mix, and my clueles neighbors played Gimme! Gimme! Gimme! with a box of popcorn. But in the end, none of that mattered. Long before the cast launched into its closing number, Waterloo, the entire audience was on its feet. Theatre-goers were clearly on hand to celebrate the music of ABBA – the "dead as disco" crowd be damned.
With an estimated 350 million in sales worldwide, ABBA's songs continue to touch the deepest recesses of the heart. (Pro tip: Never listen to ABBA when you are depressed.) And while the film adaptation opened itself to rightful ridicule, the stage show remains iconic. Royal Caribbean has even gone so far as to produce the entire show for passengers on its beautiful, trend-setting liners: Quantum of the Seas and Allure of the Seas. (This critic saw the production on Quantum of the Seas during a special press preview voyage in 2014 and both the show and the ship were outstanding.)
The book presents a convoluted story in a fairly simple fashion. On a small Greek island, the wedding of a fatherless girl is about to take place. Sophie Sheridan – the bride-to-be – has discovered three names in her mother Donna's diary. Given the timing of her conception, any one of these men could be her father; so, unbeknownst to Donna, Sophie invites all three men to attend her wedding. The three (Harry, Bill and Sam) arrive to find Donna still at war with herself over her decades-old breakup with Sam, which (she explains to best friends Tanya and Rosie) led to her flings with Harry and Bill. Caught in the middle of this Greek tragedy is the innocent instigator Sophie who simply wants some closure before starting a new life of her own.
The dialogue of Mamma Mia! is punctuated, of course, with segues to twenty-two ABBA songs. "Honey, Honey", "Mamma Mia!", "Dancing Queen", and "S.O.S." join less familiar tunes, such as "Slipping Through My Fingers" and "Under Attack", in fleshing out the long-buried intrigue.
Does it work? Well, let's put it this way. Who would have ever expected eight actors in frogman attire to literally stop a show with a high-stepping rendition of the song, "Lay All Your Love On Me".
Simply brilliant.
Other high points include Sophie's jarring nightmare in "Under Attack", Rosie's lustful love-call to Bill, "Take A Chance On Me" and (perhaps the best) Tanya's teasing "Does Your Mother Know?".
Near the close, we finally hear the triumphal words, "I Do, I Do…", but the vows come with a surprising and satisfying twist.
For the current US tour of Mamma Mia, producers have cast 30 energetic and enjoyable actors. As mentioned earlier, there is a mix, in that two of the performers (Cashelle Butler as Tanya and Sarah Smith as Rosie) tend to overshadow their fellow players.
Butler and Smith are near perfect – to the point where the vocal pitchiness of Lizzie Markson (Sophie) and Betsy Padamonsky (Donna) stood out on their soaring solos. Luckily for the two female leads, their acting is solid and (as noted) the show really sells itself.
Of the three male leads, Andrew Tebo (Harry) makes the most of his wistful part. Shai Yammanee (Sam) has a pleasant tenor voice but is at his best when displaying Sam's earnest emotions. Marc Cornes (Bill) does nicely as Rosie's comic foil.
Standing out in support are Chloe Kounadis (Ali) and Niki Badua (Lisa) as Sophie's bridesmaids, and Austin Michael (Pepper) and Max Ehrlich (Eddie) as Donna's hormonal bar boys.
PR at the Hippodrome told us that ticket sales for Mamma Mia! have been brisk. Good single seats remain, so don't let the opportunity to see Mamma Mia! slip through your fingers. Spend some Money, Money, Money and go see this show.
Trust me: You'll forever thank ABBA for the music.
* * * * *
Mamma Mia! runs now – January 15, 2017 at the historic Hippodrome Theatre. Running time is 2 hours 40 minutes with one 15 minute intermission. The theater is located at 12 North Eutaw Street, Baltimore Maryland. Tickets and other information may be found by visiting The Hippodrome online or by calling the box office at 410-837-7400

Anthony C. Hayes is an actor, author, raconteur, rapscallion and bon vivant. A one-time newsboy for the Evening Sun and professional presence at the Washington Herald, Tony's poetry, photography, humor, and prose have also been featured in Smile, Hon, You're in Baltimore!, Destination Maryland, Magic Octopus Magazine, Los Angeles Post-Examiner, Voice of Baltimore, SmartCEO, Alvarez Fiction, and Tales of Blood and Roses. If you notice that his work has been purloined, please let him know. As the Good Book says, "Thou shalt not steal."