Justin Timerberlake: A '20/20 Experience' that shouldn't have been missed
Justin Timberlake had a question for the capacity crowd as he hoisted a shot glass while standing on a movable stage about 40 feet above thousands of fans who swayed and sang with his every move at the Baltimore Arena on Monday night.
"Did I hear this correctly?" he said. "The O's are in first place? How about we drink to that! Cheers, Baltimore!"
Timberlake took a swig, and the man who is today's King of Pop paid homage to the King of Rock 'n' Roll by belting out "Heartbreak Hotel," just as Elvis Presley did in the same building 37 years earlier.
Timberlake rocked out his long list of hits, including "My Love," "Rock Your Body," "Senorita," and "Only When I Walk Away" one after another, combining his 13-piece band – the "Tennessee Kids" – with his sultry backup singers and a complement of lasers and lights that created a sensory overload called "The 20/20 Experience."
Timberlake was nonstop movement, whether using his microphone stand as a dance partner or twisting, spinning and bumping and grinding only the way he can, much to the delight of the horde of women shimming in the stands.
Timberlake was in firm control throughout his two-hour, 20-minute show, using witty humor to connect with the audience and utilizing the crowd as another backup singer to for chunks of songs, including his megahit "Cry Me A River."
Timberlake had the crowd so entranced, so hypnotized, that if he told the women to throw their shirts on stage, he'd have the world's largest pile of dirty laundry. Timberlake's stage stretched across Baltimore Arena and included a portion that lifted over the crowd and moved from one end of the venue to the other.
The "20/20 Experience" couldn't have a more fitting name, considering what Timberlake delivered wasn't so much a concert as it was a spectacle, a bass-pounding, dance-fueled show that had thousands bobbing as one.
Timberlake had the women, many wearing cocktail dresses and plenty of makeup,  marveling in his pure sex appeal, whether he was wearing a T-shirt and pants, a dress shirt and slacks or a suit and tie as he belted out the hit with the same name.
It's what Timberlake has been doing for years since his days in 'N Sync. But the only difference is Timberlake did it in Baltimore and more importantly, in the Baltimore Arena, which landed the world's current highest-grossing tour.
Timberlake's "The 20/20 Experience" recently returned to the United States after generating $77.3 million from tickets during a European leg that included 23 cities in 14 countries, in addition to a few stops in the Middle East. The world tour opened on Nov. 6 at New York City's Barclays Center and raked in $148 million in tickets sales from 78 shows attended by about 1.3 million fans, according to Billboard.com.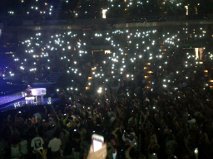 "It once again proves to tours that Baltimore is a place that can draw large acts and support them," Baltimore Arena General Manager Frank Remesch said. "Over the past few years, Baltimore has been getting the attention we deserve. Bigger tours are coming to town in addition to going to the other markets and sometimes skipping them all together. In September, we have Demi Lovato opening her World Tour here [on Sept. 6], she could have chosen to open it anywhere, but she picked Baltimore."
Considering Baltimore Arena has hosted the "who's who" of musical icons including The Beatles, The Rolling Stones, U2, Bruce Springsteen, Frank Sinatra, Elton John and The Grateful Dead, it's difficult to put Timberlake's show in historical context at the aging facility.
Will "The 20/20 Experience" be bigger than the Baltimore-Arena record of $2.5 million in ticket sales generated by the Rolling Stones in 2006? It could be, considering lower level tickets were $178, but cost much, much more on the secondary market, where good seats were selling online for $775.
"I'm not surprised," Remesch said. "When we had Springsteen a few years ago, we talked to patrons who paid $1,500 per ticket. We try to tell our patrons to be wary of purchasing from these third party sites because the price can be so inflated and you also run the risk that the ticket is not legit."
The Baltimore Arena's ability to land Timberlake can't be understated, considering the tour's stops are marked by major cities such as Philadelphia, Houston, Boston, Los Angeles, Anaheim and Atlanta, which all have newer arenas than Baltimore's 51-year-old relic on the corner of Baltimore Street and Hopkins Place.
"Bottom line, we are not a tertiary market," Remesch said. "We have proven that we can, and do, hit home runs."
Just like Timberlake did on Monday night.

Jon Gallo is an award-winning journalist and editor with 19 years of experience, including stints as a staff writer at The Washington Post and sports editor at The Baltimore Examiner. He also believes the government should declare federal holidays in honor of the following: the Round of 64 of the NCAA men's basketball tournament; the Friday of the Sweet 16; the Monday after the Super Bowl; and of course, the day after the release of the latest Madden NFL video game.