The Judge: Robert Downey Jr. delivers a favorable verdict
3 out of 4 stars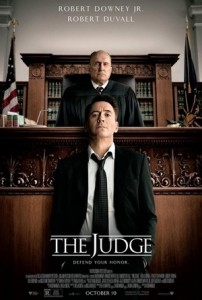 One sentence — that's all you need to know about Hank Palmer, the big city lawyer who has made millions making sure his guilty clients never pay for their sins.
"Everyone wants Atticus Finch until there is a dead hooker in the hot tub," he says during The Judge, referring to the attorney who would risk his career in pursuit of justice in the Pulitzer Prize-winning novel To Kill A Mockingbird.
If you've done the crime and don't want to do the time, Palmer's your guy – the slick lawyer who is focused more on destroying the prosecution instead of merely winning inside Chicago's courtrooms.
Justice? Who cares, Hank believes, since the guilty are the only ones who can pay his hefty fee.
Meantime in rural Indiana, Hank's father, Joseph (Robert Duvall), is simply known as "Judge" because it's the job he's held for decades in the family's hometown.
Hank hasn't spoken to his father in years — until Hank has no choice after returning home to bury his beloved mother, and Joseph is charged with killing a local man with his car after a late-night chance encounter at a convenience store.
The end of life spawns the start of a new beginning for Hank and Joseph, whose legacy has cast a shadow on Hank and his two brothers Glen (Vincent D'Onofrio) — a former star baseball prospect turned overweight tire shop owner – and Dale (Jeremy Strong), who has a mild mental impairment.
Reluctantly, Joseph accepts Hank's offer to represent him and the murder trial serves as the conduit for Downey Jr. and Duvall to do their magic. If director David Dobkin had cast any other duo, The Judge would have been a mistrial.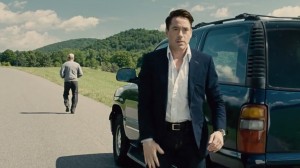 But Downey Jr. and Duvall are totally believable as a son who is bursting with pent up anger toward his father, who has never forgiven Hank for costing Glen a shot at the major leagues and for abandoning the once tight-knit family.
D'Onofrio and Strong are terrific supporting actors, as they never left the family's hometown and strengthened their relationship with their overbearing father while Hank's departure to Chicago severed his.
Now, it's up to Hank to prevent his dad from going to the big house, where he'd surely never come out alive. And it's up to a prosecutor (Billy Bob Thornton) who's bent on revenge to make an example of Joseph.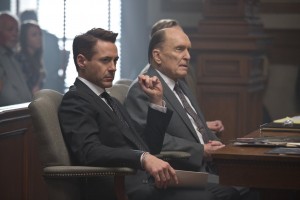 At 83, Duvall's career remains very much alive, as he's masterful in showing his disdain for the way Hank's lived his life, yet at the same time, knows Hank is the only one who can prevent him from going to prison and keep a fractured family from completely falling apart.
Downey Jr.'s ego throughout the 141-minute film is as strong as the suit he donned in Iron Man, but his overall performance shows how desperately he wants to break free from being stereotyped as a superhero in films where the special effects steal the scenes with things blowing up everywhere.
This role was perfect for Downey Jr. He plays the smartest guy in the room – and he knows it. It's like he took off the Iron Man suit and the Sherlock Holmes hat and put on a designer suit and walked right into character in The Judge.
At 49, time is running out for Downey Jr. to get off the "Best Actor To Never Win An Oscar" list. Will The Judge bring him the Academy Award he craves? Probably not, but it's the best performance of his career, which makes it worth seeing.
Even if nothing blows up.

Jon Gallo is an award-winning journalist and editor with 19 years of experience, including stints as a staff writer at The Washington Post and sports editor at The Baltimore Examiner. He also believes the government should declare federal holidays in honor of the following: the Round of 64 of the NCAA men's basketball tournament; the Friday of the Sweet 16; the Monday after the Super Bowl; and of course, the day after the release of the latest Madden NFL video game.