He was called a "supercop" and an "arrest machine" by the New York City media in the 1980s.  Some cops called him a rat and a "field associate," a term used to describe a cop who was working for Internal Affairs.
His story is nothing short of compelling yet tragic at the same time.
A Hollywood scriptwriter could not make up a story such as his and it could very easily be a big screen movie in the fashion of one of Philip D'Antoni's gritty police dramas.
He committed professional suicide while a member of the NYPD when he exposed criminal activity by high ranking NYPD officers.  Breaking the Blue Wall of Silence would have serious consequences that eventually led to the demise of his police career.
Jose Manuel Sanchez Picon was born in Santurce, Puerto Rico in January 1947.  His family moved to New York City in the 1950's to find a better life.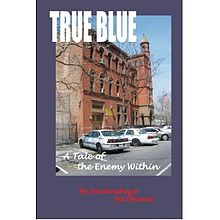 Joe Sanchez grew up in the South Bronx.
Sanchez was drafted into the United States Army in 1965 at the age of 18.
Joe Sanchez went from boy to man quickly.
On January 16, 1967 at the age of 20 while with the 1st Air Cavalry Division he was deployed near the village of Phan Thiet in South Vietnam.  While in a firefight with the Viet Cong, Sanchez and three of his comrades were seriously wounded.
Joe Sanchez was awarded the Army Commendation Medal and the Purple Heart.
After recovering from his wounds Sanchez returned to New York City and in 1971 was accepted onto the Port Authority Police of New York and New Jersey.
In 1973 Joe Sanchez became a police officer with the New York City Police Department.
During his tenure with the NYPD Sanchez received 31 commendations, made hundreds of arrests and was known as a police officer who went after violent criminals and drug dealers with a passion.
This may sound like a good thing but when juxtaposed with the fact that in New York City at the time many crooked cops were providing protection for drug dealers, bookies, bodega owners and the like, it may not have been such a good idea for Joe Sanchez.
For an honest cop just doing what he was getting paid to do and what is demanded by the public that all cops do, Sanchez was becoming an annoyance for some of his superiors at the time.
Reading from a New York Daily News article from 1982, Joe Sanchez was one of the Top Ten NYPD cops in 1981 for overtime resulting from arrests made.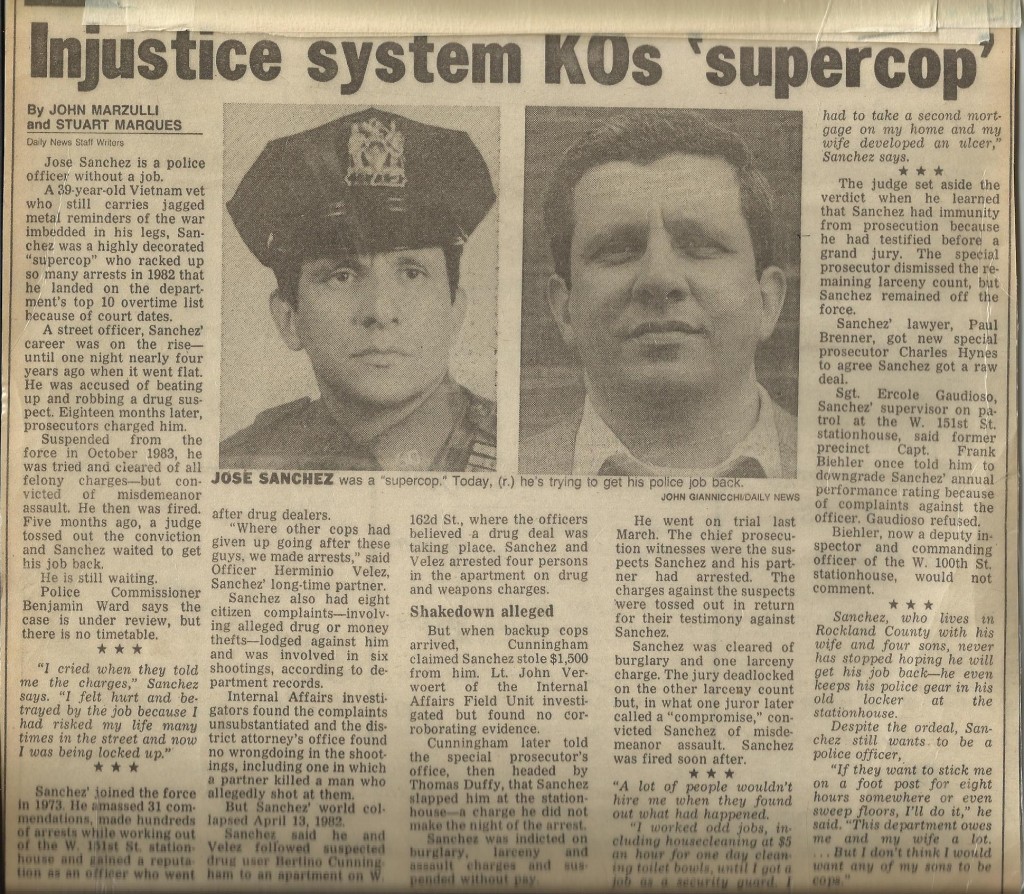 Sanchez earned $11, 553 in overtime while assigned to a radio patrol car in Harlem in 1981, logged 60 arrests, including 10 for drug possession, 10 for burglary, eight for robbery and one for attempted murder of a police officer.   The article stated just last week Sanchez and his partner were involved in a shootout with a man who fired at them.
Sanchez was by all means a cops cop.  He made off-duty arrests many times.
Criminals feared him.
His bosses told him to knock it off.
Sanchez had a reputation on the street of a cop who was all business.
Sanchez once walked into a shop at 158th Street and Broadway to get some coffee.  A local man took one look at Sanchez, put his hands on the counter, and yelled, "OK, don't shoot!"  The man was wanted for robbery and had a gun.
In northern Manhattan Sanchez was known as an "arrest machine."
So how did a highly decorated police officer become a marked man in the NYPD, double-crossed by the Internal Affairs Division, and later framed and arrested on false charges, then exonerated of all charges and fired?
Joe Sanchez did the unthinkable.
He broke the Blue Wall of Silence, the police omerta, by going after a corrupt lieutenant and a captain.
In the eyes of many cops Sanchez betrayed them.
And some in the NYPD were going to get back at him by any means they could.
It all started around March 1983 when Sanchez found out that one of his lieutenants and a captain were receiving payments from a local businessman in exchange for "protection".  Sanchez reported this to the Internal Affairs Division who wired him up with a recording device to obtain the evidence against the lieutenant and captain.
Sanchez obtained enough information to implicate both of them.
What Sanchez did not know was that some of those who wired him up were personal friends of the lieutenant who had leaked what was going on.  The captain transferred Sanchez to another division and the IAD investigation was over.
Sanchez was pegged as an informer who ratted out other cops.
Not good for any police officer especially someone like Joe Sanchez who was an active go-getter when it came to criminals.
Sanchez because of his many arrests specifically against drug dealers would be an easy mark to set up and retaliate against for doing the right thing, or in the eyes of corrupt cops, the wrong thing.
So the NYPD went back to arrests made by Joe Sanchez and his partner from April 1982, almost a year prior, when Joe Sanchez and his partner arrested six suspects on drug and weapons charges.  One of the suspects later stated that Sanchez had stolen $1,500 from him.
An Internal Affairs Field Unit investigated the complaint at the time and found no corroborating evidence.  The same suspect later told investigators that Sanchez had slapped him, a charge he did not make the day of the arrest.
In October 1983, almost a year and a half after the arrests and six months after Sanchez was wired up to obtain evidence of corruption against an NYPD lieutenant and captain, Joe Sanchez was framed and indicted on burglary, larceny and assault charges, based on the allegations from the drug dealer.
The witnesses against him were the drug dealers he and his partner had arrested back in 1982.
The dealers were promised that their charges would be dropped if they testified against Sanchez.
And who arrested Sanchez?
The same Internal Affairs sergeant who wired him up back in March 1982.
Joe Sanchez found out the hard way that payback in the NYPD was a real bitch.
Sanchez was then suspended without pay.
In court Sanchez was exonerated of all charges except for an assault charge, which was later dropped.
Nonetheless Sanchez who the press once called a supercop and an arrest machine and who had numerous commendations and made hundreds of arrests found himself out of a job.
Fired after twelve years in the NYPD, Sanchez found himself out in the cold with no means to support his wife and children.
The New York Daily News ran an article titled, Injustice system KO's 'supercop'.  He loses his job over disproved charges.
Sanchez did whatever job he could to support his family.
For three years Sanchez states he found himself cleaning toilets, working private security jobs and later as a postal carrier, all the while trying to get reinstated to the NYPD to no avail.
Benjamin Ward who was police commissioner at the time had the authority to reinstate Sanchez but refused to do so.
Ward may have felt that it was better to leave things the way they were with Sanchez rather than opening up a can of worms by exposing further police corruption.
In 1989 Sanchez was back wearing a badge when he was hired by the New York State Department of Corrections.   Obviously the State didn't think much of the NYPD's frame-up of Sanchez.
Sanchez served as a corrections officer at the famed Sing Sing Correctional Facility, a maximum security prison.  For Sanchez he found himself for all accounts in prison with some of the same criminals he had put in prison.  While there Sanchez was assaulted.  He later transferred to Coxsakie State Prison where one day he was almost killed while trying to help an inmate who was being stabbed by another inmate.
Sanchez decided he had had enough and ended his career as a corrections officer.
How much more could society have asked from  Sanchez?
And what happened to the lieutenant and captain that Sanchez obtained evidence against in 1983?
They got what Sanchez never did.  The lieutenant retired.  The captain retired at the rank of deputy chief.
So much for exposing corruption in the NYPD.  Another great message sent to all police officers.  Keep your mouth shut or else!
Sanchez now lives in Florida.
In 2007 his autobiography was published, "True Blue, a tale of the enemy within."
Sanchez said that behind every good man is a good woman.  "I've been married only one time and it's been to the same woman for 48 years.  When things were going bad for me my wife kept me strong as did my children."
Sanchez quotes Proverbs 31:12, "She brings him good not harm, all the days of her life."
Perhaps no man could ask for more.